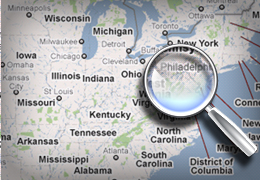 Region II Jurisdiction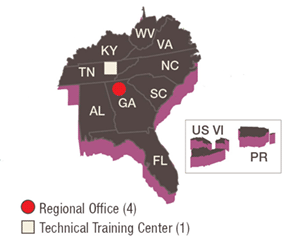 U.S. NRC Region II
Marquis One Tower
245 Peachtree Center Avenue N.E., Suite 1200
Atlanta, GA 30303
On this page:
Related pages:
Area Covered by Region II
Alabama*, Florida*, Georgia*, Kentucky*, North Carolina*, Puerto Rico, South Carolina*, Tennessee*, Virginia*, U.S. Virgin Islands, and West Virginia.
Region II also oversees commercial nuclear fuel facilities in Illinois (IL)* and Ohio (OH)* which are part of Region III, as well as in New Mexico (NM)* and Washington (WA)* which are part of Region IV. In addition, Region II handles all construction inspection activities for new nuclear power plants and fuel cycle facilities in all regions. Region I oversees all materials licensees in Region II.
* These states are "Agreement States" which have assumed the regulation of radioactive materials with the exception of nuclear reactors, fuel facilities, and certain other facilities.
Types and Numbers of Licensees in Region II
| | | |
| --- | --- | --- |
| Nuclear Power Reactors: | 33 | (located at 17 sites) |
| Research and Test Reactors: | 2 | |
| Fuel Facilities: | 7 | (operational) |
| | 5 | (in licensing or construction status) |
| Uranium Milling Facilities: | 0 | |
Page Last Reviewed/Updated Tuesday, February 21, 2017
Home
About Us
Popular Documents
Stay Connected