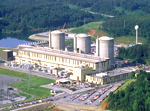 Contact Us About Operator Licensing
NOTE: Please use this form only for questions associated with 10 CFR 55 and its associated regulatory guidance. For all other inquiries please refer to Contact Us.
For answers to many frequently asked questions (e.g., Gen.45 - How do I get a copy of my former license?) see our Operator Licensing Feedback page; click on the "binoculars/search" button and enter a key word to start a search. If after reviewing theses pages, you wish to send us a comment or question, select the location to which you wish to send your question and complete the appropriate sections of the form.
Page Last Reviewed/Updated Thursday, July 21, 2016