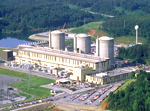 Public Meetings for 2007
This page lists, in reverse chronological order the transcripts and slides documenting the public meetings held concerning the power uprates. To learn about future meetings, see our public meeting schedule page.
This page includes links to files in non-HTML format. See Plugins, Viewers, and Other Tools for more information.
| Date | Description |
| --- | --- |
| 11/14/2007 | ACRS Subcommittee Meeting - Susquehanna |
| 11/01/2007 | ACRS Full Committee Meeting - Susquehanna |
| 10/10/2007 | ACRS Subcommittee Meeting - Susquehanna |
| 10/09/2007 | ACRS Subcommittee Meeting - Susquehanna |
| 02/01/2007 | ACRS Full Committee Meeting - Browns Ferry 1 |
| 01/17/2007 | ACRS Subcommittee Meeting - Browns Ferry 1 |
| 01/16/2007 | ACRS Subcommittee Meeting - Browns Ferry 1 |
Page Last Reviewed/Updated Monday, December 19, 2016
Home
About Us
Popular Documents
Stay Connected