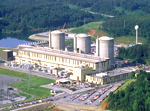 Design Certification Application Review - AP1000 Amendment
On January 27, 2006, the U.S. Nuclear Regulatory Commission (NRC) issued the final design certification rule (DCR) for the Advanced Passive 1000 (AP1000) design in the Federal Register (71 FR 4464). Applicants or licensees intending to construct and operate a plant based on the AP1000 design may do so by referencing its DCR, as set forth in Appendix D to Title 10, Part 52, of the Code of Federal Regulations (10 CFR Part 52, Appendix D). On March 10, 2006, the NRC issued a revised FDA based on Revision 15 of the Westinghouse design control document (DCD).
By letter dated May 26, 2007, Westinghouse submitted an application to amend the AP1000 DCR and Revision 16 of the AP1000 DCD.
On September 22, 2008, Westinghouse updated its application to amend the AP1000 DCD. The update, Revision 17, contains changes from those submitted in Revision 16. The changes are summarized in the September 22nd letter. On October 14, 2008, Westinghouse provided a corrected set of the Revision 17 DCD electronic files, to update portions of the Revision change roadmap and include additional change bars in the margins that had inadvertently been omitted in the initial submittal. The linked public version of Revision 17 is to the corrected files.
On December 1, 2010, Westinghouse submitted Revision 18 to the AP1000 DCD. On June 13, 2011, Westinghouse submitted Revision 19 to the AP1000 DCD.
NRC completed its review of the AP1000 DCD, Revision 19 on August 5, 2011. "NUREG-1793 , Supplement 2 to the Final Safety Evaluation Report for Revision 19 to the AP1000 Standard Design Certification," was issued in September 2011. On December 30, 2011, the AP1000 DC Amendment final rule was published in the Federal Register.
For additional detail, see the following topics on this page:
Safety Evaluation
The NRC issued its final Safety Evaluation Report on August 5, 2011. This report was subsequently published as Supplement 2 to NUREG-1793 in September 2011.

Contact

Page Last Reviewed/Updated Wednesday, April 12, 2017
Home
About Us
Popular Documents
Stay Connected