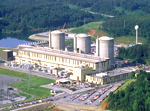 2018 Public Meetings for Aurora - Oklo Application
The following table lists, in chronological order, the public meetings that staff of the U.S. Nuclear Regulatory Commission (NRC) conducted with representatives of Oklo, Inc., in connection with the review of the custom combined license (COL) application for Aurora Powerhouse. To learn about future meetings, see our Public Meeting Schedule.
This page includes links to files in non-HTML format. See Plugins, Viewers, and Other Tools for more information.
| Date | Description |
| --- | --- |
| 09/20/2018 | Oklo Inc., Non-Public Meeting to Discuss the Oklo Draft Principal Design Criteria Report |
| 12/11/2018 | Oklo Inc., Non-Public Meeting to Discuss the Oklo DG-1353 Pilot Report |
Page Last Reviewed/Updated Tuesday, May 12, 2020
Home
About Us
Popular Documents
Stay Connected