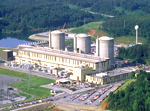 Combined License Application Documents for Aurora – Oklo Power Plant Application
The following table provides access to the COL Application and other documents that Oklo, Power LLC submitted for Aurora – Oklo Nuclear Power Plant.
This page includes links to files in non-HTML format. See Plugins, Viewers, and Other Tools for more information.
| Date | Description |
| --- | --- |
| 06/05/20 | Acceptance Review for the Oklo Aurora Combined License Application |
| 03/11/20 | Oklo Power Combined Operating License Application for the Aurora at INL |
Page Last Reviewed/Updated Tuesday, June 16, 2020
Home
About Us
Popular Documents
Stay Connected