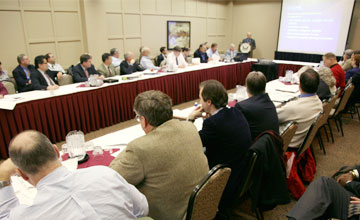 Hotel Information for FCIX 2011
The 6th Annual Fuel Cycle Information Exchange (FCIX 2011) will be held June 7–8, 2011 at the Legacy Hotel and Meeting Centre

located at 1775 Rockville Pike in Rockville, Maryland 20852.
The Legacy Hotel and Meeting Centre is conveniently located in Rockville, MD and is just a few Metrorail stops from Bethesda and downtown Washington, DC. The hotel is easily accessible within a short walk from the Twinbrook Station on the DC Metro's red line.
In addition to the renowned Phillips Seafood Restaurant located within the hotel, nearby businesses include restaurants, shops and theaters at Rockville Town Center and the Strathmore Music Center. The Legacy hotel provides complimentary shuttle service to nearby businesses within a 5 mile radius upon request during specific business hours.
Nearby airports include: Baltimore-Washington International (BWI), Washington Dulles International Airport (IAD), and Ronald Reagan Washington National Airport (DCA).
A number of specially-priced guest rooms are available for attendees of the FCIX 2011 at the government per diem rate (which includes a complimentary breakfast). Please indicate you are attending the FCIX when making your reservation. For additional details, please go directly to the
Legacy Hotel and Meeting Centre

.

Page Last Reviewed/Updated Thursday, March 29, 2012
Home
About Us
Popular Documents
Stay Connected