Industrial Uses of Nuclear Materials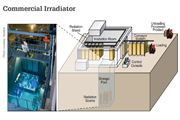 (View Larger)

(View Larger)
On this page:
Regulatory authority over the use of ionizing radiation in industry is shared among several Federal, State, and local government agencies. NRC (or the responsible Agreement State) has regulatory authority over the use of byproduct material (radioactive material generated by a nuclear reactor) in industry. The remainder of this page describes the different types of industrial use regulated by NRC.

Industrial Radiography
Industrial radiography is the use of radiation to produce an image of internal features on photographic film; it is used to inspect metal parts and welds for defects.
Look up information in the Industrial Radiography Licensee Toolkit.

Irradiators
Irradiators are devices or facilities that expose products to radiation to sterilize them, such as spices and some foods, milk containers, and hospital supplies. Self-shielded irradiators are constructed so that there is no external beam during use and there is "usually a small cabinet type device that is not built in." Non-self-shielded irradiators do not provide shielding from the radiation beam, therefore, additional shielding needs to be provided and special radiation protection precautions need to be taken.
Look up information in the Irradiator Licensee Toolkit.

Well Logging
Well logging is a process used to determine whether a well drilled deep into the ground has the potential to produce oil. This process uses byproduct or special nuclear material tracer and sealed sources in connection with the exploration for oil, gas, or minerals in wells.
Look up information in the Well-Logging Licensee Toolkit.

Gauging Devices
Gauging devices are used to measure, monitor, and control the thickness of sheet metal, textiles, paper napkins, newspaper, plastics, photographic film, and other products as they are manufactured. Nonportable gauging devices (i.e., gauges mounted in fixed locations) are designed for measurement or control of material density, flow, level, thickness, or weight, and so forth. The gauges contain sealed sources that radiate through the substance being measured to a readout or controlling device. Portable gauging devices, such as moisture density gauges, are used at field locations. These gauges contain a gamma-emitting sealed source, usually cesium-137, or a sealed neutron source, usually americium-241 and beryllium.
Look up information in the Gauging Devices Licensee Toolkit.

Other Measuring Systems
Other measuring systems includes analytical systems such as x-ray fluorescence analyzers, gas chromatographs used for quality control testing in industrial processes, instrument calibrators, krypton leak detectors, and other "non-gauge" measuring systems.
Look up information in the Other Measuring Systems Licensee Toolkit.

Research and Development
Research and development involves the possession and use of radionuclides in industrial facilities for research and development.
Look up information in the Research and Development Licensee Toolkit.

Service Providers
Decontamination Service
Decontamination service involves the cleaning and release of contaminated material, usually scrap metal, for unrestricted use.
Waste Disposal Service
Waste disposal service involves the pick-up, transportation, and storage of only already packaged wastes. Incineration involves the commercial receipt of wastes from others and disposal of the wastes by incineration. Processing or repackaging firms receive packaged wastes from other persons, open the packages, compact and repackage the wastes, and transfer them to an authorized burial ground for disposal.
Waste Treatment Service
Waste treatment service involves the physical or chemical treatment of contaminated soil and other solid, liquid, and gaseous wastes. Such waste treatment may remove radioactive materials from waste, reduce the volume of the waste, change the form of waste, or other similar operations to allow for the transfer of the treated waste to an interim storage facility or an authorized burial ground for disposal.
Other Services
Leak test services possess and use radioactive material for leak testing sealed sources or devices containing sealed sources, analyzing leak test samples, and supplying preregistered leak test kits. Instrument calibration services are involved in the calibration of radiation survey and monitoring instruments. Other services possess and use radioactive material for various commercial services, such as teletherapy, industrial gauge servicing, or nuclear laundry.
Look up information in the Service Providers Licensee Toolkit.

Source Material
Source material licenses are issued for the possession and use of refined uranium or thorium for fabrication, research, and manufacture of consumer products such as ceramics and glassware; manufacture of refractories; uranium shielding; analytical standards; military munitions; and other uses. A small number of these licenses are issued to allow the use of uranium in subcritical assemblies.
Look up information in the Source Material Licensee Toolkit.

Special Nuclear Material
Special nuclear material licenses are issued for the possession and use of small quantities of Plutonium, U-235, and U-233 (less than 200 grams total) for purposes such as biological and 'chemical testing; calibration of instruments; neutron sources for use in industrial applications; power sources to generate heat or power for remote weather stations, space satellites, and other special applications; and sealed sources in devices such as gauges.
Look up information in the Special Nuclear Material Licensee Toolkit.

Page Last Reviewed/Updated Thursday, October 10, 2019
Home
About Us
Popular Documents
Stay Connected