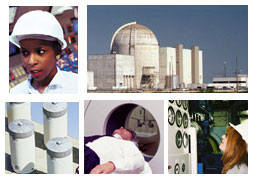 Collaborative Fire Research
In orchestrating the Fire Research Program for the U.S. Nuclear Regulatory Commission (NRC), the Fire Research Branch in the NRC's Office of Nuclear Regulatory Research performs the following vital functions:
Plan, develop, and manage a variety of state-of-the-art fire research projects.
Develop and validate fire analysis methodologies and supporting data.
Use the research results as the basis for recommending improvements to risk-inform NRC regulations and achieve the desired outcomes of enhanced safety, efficiency, and effectiveness.
To augment the Fire Research Program and leverage the NRC's resources, the staff represents the agency in collaborative fire research initiatives. These initiatives involve a variety of outside organizations, including the U.S. Department of Energy and other Federal agencies, the nuclear industry, universities, standards development committees, and international fire research forums. In particular, the staff enjoys excellent working relationships with the following technical organizations:
Page Last Reviewed/Updated Tuesday, January 02, 2018
Home
About Us
Popular Documents
Stay Connected