Office of the Inspector General Semiannual Report to Congress (NUREG-1415, Vol. 19, No. 2)
On this page:
Download complete document
Publication Information
Manuscript Completed: March 2007
Date Published: March 2007
Reporting Period: October 1, 2006 – March 31, 2007
Office of the Inspector General
U.S. Nuclear Regulatory Commission
Washington, DC 20555
A Message from the Inspector General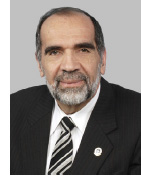 We are pleased to present the Nuclear Regulatory Commission (NRC) Office of the Inspector General (OIG) Semiannual Report to Congress for the 6-month period ending March 31, 2007.
During this semiannual period, we issued 12 audit reports on NRC's financial statements, programs and operations. In addition, we issued 5 contract audit reports that contained $194,000 in questioned costs, and final agency action has been completed on a prior contract audit that resulted in $3.6 million in disallowed costs. OIG also opened 43 investigations, and completed 21 cases. Eleven cases were referred to the Department of Justice, and 31 were referred to NRC management for action during this reporting period.
Our work reflects the legislative mandate of the Inspector General Act to identify fraud, waste, and abuse and to recommend appropriate corrective actions. The audits and investigations highlighted in this report demonstrate our commitment to improving NRC's programs and operations and protecting their integrity.
During the next few years, NRC will receive its first round of new reactor applications since 1978. Some applications may involve new reactor design technologies and a new licensing process (combined operating license). NRC estimates that it will receive 16 or more new applications in the coming years, and projects that upward of 450 new staff positions will be needed to meet this demand.
Coinciding with the increase in regulatory responsibilities, is the expected retirement of many senior staff who have the experience in licensing reactors from the 1960s, 1970s, and 1980s. The agency's ability to effectively review and license the new generation of commercial nuclear reactors will depend significantly on how well employees new to the process are trained and developed into effective reviewers and regulators at the staff and senior management level. Furthermore, construction oversight of future plants will be equally or more challenging.
The review of new applications involving new reactor technologies, a new licensing process, and a new staff in this realm, will necessitate strong control processes to ensure that the agency meets its review and licensing objectives. By being a proactive independent observer and evaluator, OIG will support the agency through its oversight and recommendations designed to reduce the inherent risks in carrying out this new regulatory program.
I look forward to continuing the collaborative work between my staff and agency managers to accomplish our common goal of ensuring the effectiveness, efficiency, and integrity of NRC programs and operations.
Hubert T. Bell
Inspector General
Page Last Reviewed/Updated Thursday, June 09, 2016
Home
About Us
Popular Documents
Stay Connected