---
ACCESSION #: 9805150001
---
EGS
A Division of Science Applications International Corporation
An Employee-Owned Company
May 08, 1998
Document Control Desk
U.S. Nuclear Regulatory Commission
Washington, DC 20555
Subject:
10CFR21 notification of a possible defect in Cutler-Hammer 4 pole front attachments P/N: D26MF utilized on D26 Relays
Reference:
1.
Richard P. Dover Jr. (Duke Power) E-Mail to Fred Roy dated April 27, 1998.
2.
SAIC/EGS phone conversation with Richard P. Dover Jr. on April 28, 1998.
To whom it may concern:
This letter is issued to inform you of a possible assembly defect in Cutler-Hammer four pole attachments, P/N: D26MF, utilized on D26 relays. On April 27, 1999, Duke Power notified EGS that they had found 2 ea. P/N: D26MF, four pole attachments, date codes 09961 and 07964, that had some or all of the contact bridges turned upside down, causing the thin bare copper strip instead of the silver plated pads to interface with the stationary contacts. This condition can potentially cause increased contact resistance and/or insufficient current carrying capabilities over time due to the degradation of the reverse side of the contact bridge.
Based on our discussions with Cutler-Hammer, Asheville, NC, it was learned that one four pole attachment was returned to them in October 1997 that had the same incorrect configuration as described above. Even though this was the only return they had received, they immediately implemented corrective actions to prevent recurrence. The corrective actions included retraining of Cutler-Hammer assembly personnel, updating procedures, and performing checks of future lots to verify this condition did not recur. No additional problems were found as a result of these checks. Additionally EGS confirmed that the unacceptable four pole attachments were manufactured in Asheville, NC. Asheville began assembling the subject four pole attachments in early 1995. Based on this information it is concluded that front attachments with five digit date codes identifying a date of manufacture between January 1995 thru October 1997 are suspect. A review of all shipments of relays supplied with D26MF four pole attachments was performed and all affected orders are identified on Attachment 1.
It is recommended that all four pole attachments supplied under the affected orders be visually inspected to verify proper contact bridge orientation. This can be done by removing the four pole attachment from the relay and removing the molded base and contact carrier exposing the contact bridges or by removing the stationary contacts and inspecting the contact bridges using a small flashlight (see disassembly instructions per Attachment 2).
If you have any questions or if additional information is required please do not hesitate in calling Mike Noblitt or the undersigned at (205) 722-8500.
Sincerely,

Tom Gill
Quality Assurance Manager
QA0508981043
CC:
Wiley Finley, EGS Division Manager
Mike Noblitt, Program Manager
125 West Park Loop, Suite 200, Huntsville, Alabama 35806
(256) 722-8500 o (256) 722-8533 (FAX)
---
Table "CUTLER-HAMMER D26 TYPE M RELAYS PROVIDED WITH POTENTIALLY SUSPECT FRONT ATTACHMENTS (D26MF)"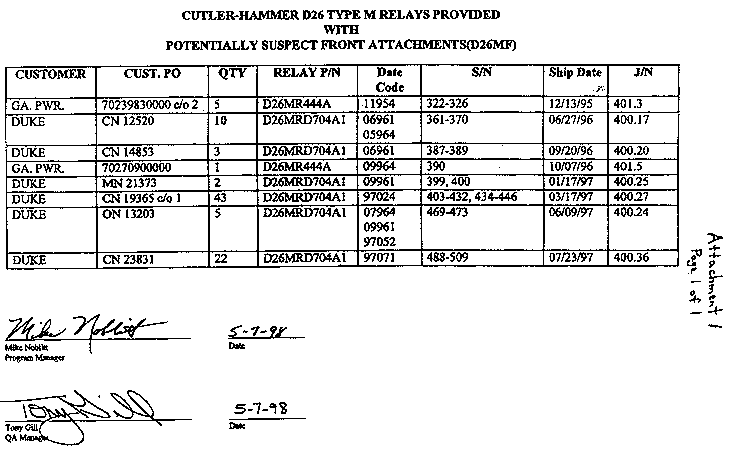 ---
PUBLICATION NO. (RP) D26MF-1
169
RENEWAL PARTS AND INSTRUCTIONS
FOR
FOUR POLE ATTACHMENT
(TYPE M RELAY)
DESCRIPTION
This attachment provides for the addition of 4 normally open poles to either the 4 or 8 pole Type M Relay structures. No special adjustments are necessary when adding this attachment, but note that a stronger coil is required when mounting on the eight pole structure.
INSTALLATION
Remove the relay cover and pullrod and fasten the attachment in their place. Adaptor rods are provided with this accessory for the linkage connection which will couple the attachment to the relay. Thread the pullrod into the relay fully to complete the installation.
DISASSEMBLY
To remove the attachment from the relay merely backout the pullrod and mounting screws. Replace the relay cover plate if operation of relay must be continued. To remove contacts in the contact carrier (item 5) first remove holding screw (item 9) and molded base (item 8). To replace a contact bridge (item 6) depress bridge and spring (item 7) to clear retaining guide bar and slide the old bridge assembly out. Tweezers or similar tool will aid in replacing springs if this becomes necessary. To remove a stationary contact (item 3) first remov e the terminal screw (item 2) completely before pulling contact from chamber. Where position is important parts have been keyed for proper alignment for all except the terminal screw pressure plates which must be oriented with the lip to the outside.
---
---
GENERAL INFORMATION or OTHER
EVENT NUMBER:
34190
LICENSEE:
SAIC, INC, EGS DIVISION
NOTIFICATION DATE:
05/07/98
CITY:
HUNTSVILLE
REGION: 2
NOTIFICATION TIME:
17:14 [ET]
COUNTY:
STATE: AL
EVENT DATE:
05/07/98
LICENSE#:
AGREEMENT: Y
EVENT TIME:
01:00[CDT]
DOCKET:
LAST UPDATE DATE:
05/07/98
NRC NOTIFIED BY: TONY GILL
HQ OPS OFFICER: BOB STRANSKY
NOTIFICATIONS
EMERGENCY CLASS: NOT APPLICABLE
PAUL FREDRICKSON
RDO
10 CFR SECTION:
CDEG 21.21(c)(3)(i)
VERN HODGE
NRR
DEFECTS/NONCOMPLIANCE
EVENT TEXT
310CFR PART 21 REPORT REGARDING INCORRECTLY INSTALLED MOVABLE CONTACTS IN CUTLER-HAMMER RELAYS PROVIDED TO DUKE POWER COMPANY AND GEORGIA POWER COMPANY.
MOVABLE CONTACTS IN A CUTLER-HAMMER D26MA 4-POLE FRONT ATTACHMENT FOR A D26 RELAY WERE FOUND TO BE INSTALLED UPSIDE DOWN. THE PROBLEM WAS IDENTIFIED TO CUTLER-HAMMER IN OCTOBER 1997, AND IS THOUGHT TO BE A RANDOM OCCURRENCE. HOWEVER, THE VENDOR HAS TAKEN STEPS TO PREVENT RECURRENCE.
THE CALLER REPORTED THAT WITH THE INCORRECTLY INSTALLED MOVABLE CONTACTS, THE RELAY WILL WORK PROPERLY WHEN NEW, BUT THE COPPER CONTACT SURFACE WILL BE BURNED AWAY BY REPEATED OPENING AND CLOSING OF THE RELAY, INCREASING CONTACT RESISTANCE. (THE OTHER SIDE OF THE CONTACT IS COATED WITH SILVER TO PREVENT THIS PROBLEM.) THIS CONDITION COULD LEAD TO UNSATISFACTORY OPERATION OF THE RELAY CONTACTS AT SOME POINT IN THE FUTURE.
THE CALLER STATED THAT THE DATE CODES OF POTENTIALLY AFFECTED RELAY ATTACHMENTS WOULD BE PROVIDED TO THE NRC IN A LETTER TO BE ISSUED ON 05/08/98. HOWEVER, A TOTAL OF SIX POTENTIALLY AFFECTED RELAY ATTACHMENTS WERE SOLD TO GEORGIA POWER COMPANY, AND 80 RELAY ATTACHMENTS WERE SOLD TO DUKE POWER COMPANY. A SIMPLE VISUAL INSPECTION OF THE ATTACHMENT WILL DETERMINE WHETHER THE CONTACTS ARE ORIENTED CORRECTLY.
---
*** END OF DOCUMENT ***
---
Page Last Reviewed/Updated Wednesday, May 27, 2020
Home
About Us
Popular Documents
Stay Connected