ACCESSION #: 9804230253
---
| | |
| --- | --- |
| Wyle Laboratories | Wyle Reference No.: 456100-048 |
April 21, 1998
Document Control Desk
U.S. Nuclear Regulatory Commission
Washington, DC 20555
| | |
| --- | --- |
| Subject: | Siemens Circuit Breaker Potential Part 21 |
| Reference: | Entergy Operations, Inc. (EOI) PO No. 962027 - Safety Related Siemens 4KV, 350 MVA, 1200 A Circuit Breakers |
Dear Sirs:
Pursuant to the 10 CFR Part 21 requirements, this letter notifies the NRC of a Potential Part 21 condition. We are attaching Notice of Anomaly (NOA) No. 8 for your information. This NOA is issued on Wyle Job No. 45510.
Wyle/Siemens will complete the specified evaluation of the circumstances documented in NOA No. 8 within sixty (60) days of discovery of the potential defect. The NRC will be provided a copy of Wyle's evaluation report.
If you have any questions, please feel free to contact me by phone (256/837-4411, extension 271), FAX (258/830-2109), or e-mail (esmith@hnt.wylelabs.com).
Sincerely,

Wyle Laboratories, Inc.

Edward W. Smith
Director, Contracts & Purchasing
| | | |
| --- | --- | --- |
| Wyle Laboratories. Inc. | 7800 Highway 20 West P.0. Box 077777 Huntsville,AL 35807-7777 | Tel: (256) 837-4411 |
---
Wyle Laboratories
NOTICE OF ANOMALY
Date: April 17, 1998
NOTICE NO: 8
PO NUMBER: 962027
CONTRACT NO: NA
CUSTOMER:
Entergy Operations, Inc, (EOI)/Arkansas Nuclear One (ANO)
WYLE JOB NO: 45510
NOTIFICATION MADE TO: D. Shehadeh
NOTIFICATION DATE: 4/7/98
NOTIFICATION MADE BY: J. Fitzer
VIA: In person
CATEGORY:
[x] SPECIMEN [ ] PROCEDURE [ ] TEST EQUIPMENT
DATE OF ANOMALY: 4/7/98
PART NAME:
Siemens 4KV, 350 MVA, 1200A Circuit Breaker
PART NUMBER:
5-3AF-GER-350-1200-78
ID NO:
Wyle Bar-code No. 4561053AFGER350BKR006, Siemens Serial Number R-92154A-1
TEST:
POST INSTALLATION OF INTERLOCK KIT SIEMENS PART # 18-831-030-502
FUNCTIONAL TEST
SPECIFICATION:
EOI Specification No. E-2451, Paragraphs 7.2.5 and 7.2.9
REQUIREMENTS:
1.
Reference EOI Specification No. E-2451, Paragraph 7.2.5, "Removable connecting rod shall be provided to enable operation of the mechanism operated auxiliary contacts (MOC) when the breaker is in test position."
2.
Reference EOI Specification No. E-2451, Paragraph 7.2.9, "All breakers shall be equipped so that the stored energy mechanism discharges when the breaker is withdrawn from the cubical."
DESCRIPTION OF ANOMALY
1.
The circuit breaker did not latch closed in the test position with the GE test flag installed. As a result, the MOC did not maintain a change of state condition.
2.
The stored energy mechanism did not discharge when the breaker was with drawn from the cubical.
---
| | |
| --- | --- |
| Wyle Form WH 1066, Rev. JUL 94. | Page 1 of 4 |
DISPOSITION COMMENTS RECOMMENDATIONS:
Background, Wyle and Siemens personnel were on-site at EOI's ANO Nuclear Plant on April 7 and 8, 1998, for the purpose of upgrading 1200 amp, 350 MVA Wyle/Siemens circuit breakers. The upgrade included installation of PIN (Dwg. No.) 18-831-030-502, Interlock Kit (contains modified cam) by a Siemens technician on a Siemens 1200 amp, 350 MVA breaker, Siemens S/N R-92154A-1, in accordance with instructions on Siemens PIN 18-494-382-803, Issue 01, Sheets 1 and 2F, Field Mod - Plunger Interlock for Mark 802. Siemens P/N 18-891-030-503, issue 01, Plunger Assy - GER (Kit) lists the individual components contained in the Interlock Kit.
The installation was to be performed per Siemens Drawing 18-494-382-803, Issue 01, Sheet 2F, Dimension B. and Drawing 18-891-030-503, Issue 01, Sheet 1F, Detail B, using an approved EOI maintenance order and under the supervision of EOI and Wyle personnel.
The EOI breakers were designated by Wyle/Siemens to be upgraded due to conditions observed on similar Siemens circuit breakers in non-safety-related applications at Public Service Electric & Gas.
Wyle noted the Siemens technician did not install the kit per Siemens Drawing 18-494-382-803-01, Sheet 2F, Dimension B. The original hole in the cover had to be enlarged to allow passage of the new adjustable rod. Additionally; Siemens Drawing 18-891-030-503-01, Sheet 1F, Detail B shows the adjustable rod connected to the inner hole on the cam crank arm. The Siemens technician had to move the adjustable rod to the outer hole to obtain the necessary plunger travel to drive the cubicle-mounted GE 52STA switch.
After kit installation, the circuit breaker was placed on the Switchgear Room floor and the plant-supplied GE test flag was installed with a 0. 125-inch gap at the 52STA plunger to simulate the most, demanding condition of required operation. The circuit breaker was manually charged and closed and correctly latched in the closed position, When the manual close button was actuated with the breaker manually charged, the breaker tripped free and the attempted close operation caused some misalignment to occur in the newly installed cam assembly. The plunger housing was out-of-level with the right side lower than the left side, and the camshaft was cocked in the plunger housing assembly due to the movement of the shaft bearings. The Siemens technician realigned the above parts.
The breaker was elevated to its safety-related, fully connected position. The breaker was electrically charged, manually closed, and manually tripped 12 times while operating the 52STA switch. It successfully latched closed each time.
The breaker was electrically lowered from its connected position to the floor. It was observed that the positive trip free feature did not cause the closing springs to discharge. Numerous attempts to correctly adjust the breaker-mounted positive interlock switch. (PIS) roller were all unsuccessful.
The circuit breaker identified above along with nine additional circuit breakers will be shipped from EOI to the Siemens manufacturing facility at Wendell, North Carolina where they will undergo a checking procedure per Attachment 1. This procedure shall be performed under Wyle and Siemens QA supervision and no deviation is allowed without Wyle approval. Wyle and Siemens will analyze the data gained from the above procedure, Siemens production records, and Wyle test records.
The results of the evaluation will determine the course of action required, and the impact on qualification of the circuit breakers.
RESPONSIBILITY TO ANALYZE ANOMALIES AND COMPLY WITH 10CFR21:
| | |
| --- | --- |
| [ ] CUSTOMER | [x] WYLE |
| VERIFICATION: | PROJECT ENGINEER: |
| TEST WITNESS: | PROJECT MANAGER: |
| REPRESENTING: | INTERDEPARTMENTAL COORDINATION: |
| QUALITY ASSURANCE: | |
| | |
| | |
| Wyle Form WH 1066, Rev. JUL '94 | Page 2 of 4 |
---
Attachment "CHECKING PROCEDURE-RETURNED AND BREAKERS; 2 pages".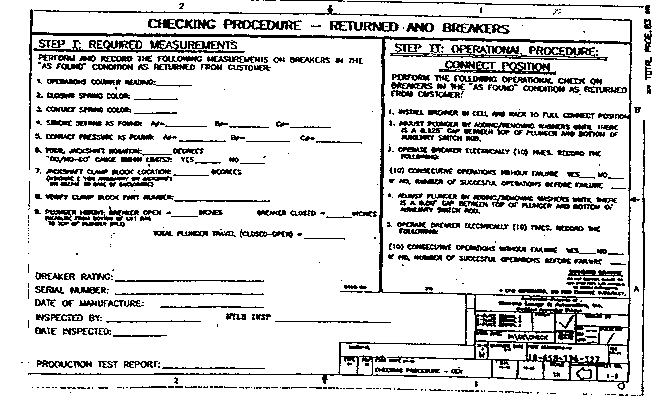 ---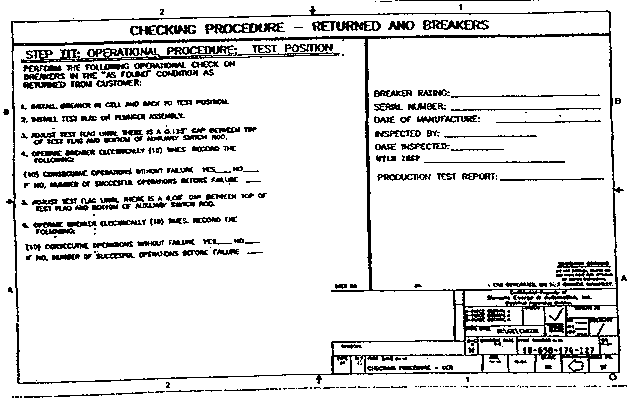 ---
GENERAL INFORMATION or OTHER
EVENT NUMBER:
34113
LICENSEE:
WYLE LABORATORIES, INC
NOTIFICATION DATE:
04/21/98
CITY:
REGION:0
NOTIFICATION TIME:
15:36 [ET]
COUNTY:
STATE:
EVENT DATE:
04/21/98
LICENSE#:
AGREEMENT:
EVENT TIME:
12:00[EDT]
DOCKET:
LAST UPDATE DATE:
04/21/98
NOTIFICATIONS
NRC NOTIFIED BY:
EDWARD W. SMITH
ELMO COLLINS
RDO
HQ OPS OFFICER:
DICK JOLLIFFE
VERN HODGE
NRR
EMERGENCY CLASS:
NOT APPLICABLE
10 CFR SECTION:
CCCC 21.21
UNSPECIFIED PARAGRAPH
EVENT TEXT
- POTENTIAL 10CFR PART 21 REPORT -
ON 04/07/98, WYLIE LABORATORIES, INC AND SIEMENS CORPORATION PERSONNEL INSTALLED AN INTERLOCK KIT TO UPGRADE WYLIE/SIEMENS SAFETY RELATED 4 KV, 350 MVA, 1200 AMP CIRCUIT BREAKERS AT ARKANSAS UNITS 1 AND 2. THIS UPGRADE WAS BEING INSTALLED DUE TO CONDITIONS OBSERVED ON SIMILAR SIEMENS CIRCUIT BREAKERS IN NON-SAFETY RELATED APPLICATIONS AT SALEM/HOPE CREEK.
HOWEVER, THE SIEMENS TECHNICIAN DID NOT INSTALL THE KIT INTO THE CIRCUIT BREAKER PER THE APPROPRIATE SIEMENS DRAWING. THE IDENTIFIED CIRCUIT BREAKER, ALONG WITH NINE ADDITIONAL CUICUIT BREAKERS WILL BE SHIPPED FROM ARKANSAS TO THE SIEMENS MANUFACTURING FACILITY AT WENDELL, NORTH CAROLINA WHERE THEY WILL UNDERGO AN APPROVED EVALUATION PROCEDURE.
THIS REPORT IS CLASSIFIED AS A POTENTIAL 10CFR PART 21 REPORT.
---
*** END OF DOCUMENT ***
---
Page Last Reviewed/Updated Wednesday, May 27, 2020
Home
About Us
Popular Documents
Stay Connected