ACCESSION #: 9803300072
---
GENERAL INFORMATION or OTHER
EVENT NUMBER:
33958
LICENSEE:
DRESSER-RAND
NOTIFICATION DATE:
03/25/98
CITY: WELLSVILLE
REGION: 1
NOTIFICATION TIME:
08:04 [ET]
COUNTY:
STATE: NY
EVENT DATE:
03/20/98
LICENSE#:
AGREEMENT: Y
EVENT TIME:
00:00 [EST]
DOCKET:
LAST UPDATE DATE:
03/25/98
NOTIFICATIONS
ROBERT SUMMERS/REG 1
RDO
NRC NOTIFIED BY:
ROBERT M. LOUGHLIN
VERN HODGE
NRR
HQ OPS OFFICER:
LEIGH TROCINE
PAUL FREDRICKSON
R2DO
MIKE JORDAN
R3DO
BILL JONES
R4DO
EMERGENCY CLASS: NOT APPLICABLE
10 CFR SECTION:
CCCC 21.21
UNSPECIFIED PARAGRAPH
EVENT TEXT
10-CFR-PART-21 NOTIFICATION
GOVERNOR VALVE STEMS MADE OF INCONEL-718 MATERIAL WILL EXPAND MORE THAN THE ORIGINAL 410 STAINLESS STEEL STEMS FOR THE SAME TEMPERATURE RISE. VALVE ASSEMBLIES THAT STROKE FREELY WHEN ASSEMBLED BIND OR DRAG AT OPERATING TEMPERATURES. THIS CONDITION RESULTS IN LOSS OF GOVERNOR CONTROL AND HAS BEEN REPORTED TO HAVE OCCURRED AT THE FOLLOWING THREE NUCLEAR POWER PLANTS: LIMERICK (S/N 36691), HOPE CREEK (S/N 37123), AND PERRY (S/N 38176).
ALL REPORTED CONTROL PROBLEMS HAVE BEEN TRACED TO VALVE STEMS MANUFACTURED BY BW/IP. THE BW/IP MANUFACTURING DRAWING ALLOWS FOR A DIAMETER OF 0.4980/0.5000", AND THE DRESSER-RAND DRAWINGS ALLOW 0.4985/0.4990". ANY INCONEL STEM WITH A DIAMETER GREATER THAT 0.4988" IS SUSCEPTIBLE TO INTERFERENCE WITH THE CARBON WASHERS AT TEMPERATURES ABOVE 500 DEGREES F AND COULD RESULT IN TURBINE CONTROL PROBLEMS. THE PERFORMANCE OF THE DRESSER-RAND INCONEL STEMS WITH THE CARBON SPACERS IS MARGINAL AT ELEVATED TEMPERATURES WITH THE MAXIMUM SAFE OPERATING TEMPERATURE BEING WELL BELOW 600 DEGREES F.
DRESSER-RAND
Energy Systems Division
Wellsville, NY
NRC CORRESPONDENCE
Date:
March 20, 1998
To:
NRC Operations Center
Fax No. 301-816-5151
From:
Robert M. Loughlin
Dresser-Rand Engineering
Phone 716-596-3343
Fax 716-596-3369
Subject:
"Verbal" Notification by facsimile of a Potential Safety Hazard 10CFR Part 21 Initial Report No. 040
A copy of approved 10CFR Part 21 Initial Report No. 040 is provided as pages 2 through 12 of this facsimile transmittal (complete transmittal is 12 pages).

Dresser-Rand Energy Systems Division will submit a written Final Report no later than April 19, 1998.

Questions relating to this 10CFR Part 21 Report may be directed to any of the following Dresser-Rand engineering personnel.

Edward Grandusky
716-596-3631
Richard Kling
716-596-3288
Robert Loughlin
716-596-3343
Robert M. Loughlin
Manager - Nuclear and Navy Product Engineering
---
| | |
| --- | --- |
| Form EF-065 | REPORT NO. 40 |
| Rev D | page 1 of 4 |
NNSOP 1.2.001
INITIAL REPORT 10CFR PART 21
REPORT OF A POTENTIAL SAFETY HAZARD
Date: 2/16/98
1.
ISSUED TO:
File No: n/a
R. Loughlin
Mgr. Navy/Nuclear Eng.
Serial No: n/a
R. Kling
Nuclear Product Engineer
Type: GS & ZS
M. Schmiedel
QA Manager
Ref: n/a
D. Beebe
VP Config. Engr. & Factory Ops.
Part No: Various
P. Hoffman
VP Project Management
Dwg No: Various
K. Fahrbach
Director Services Steam Turbine Prod.
Rev Level: n/a
2.
PREPARED BY: Edward Grandusky
TITLE: Nuclear Product Engineer
PART NAME: Governor Valve Stem
3.
DESCRIPT ION OF DEFECT:
Governor valve stems made of Inconel 718 material will expand more than the original 410 stainless steel stems for the same temperature rise. Valve assemblies that stroke freely when assembled bind or drag at operating temperatures. This condition results in loss of governor control and has been reported to have occurred at 3 Nuclear power plants, Limerick (s/n 36691), Hope Creek (s/n 37123) and Perry (s/n 38176).
4.
ENGINEERING EVALUATION & RECOMMENDATION:
All reported control problems have been traced to valve stems manufactured by BW/IP. The BW/IP manufacturing drawing (attached) allows for a diameter of .4980/.5000, the D-R drawings allow .4985/.4990. Any Inconel stem with a diameter greater than .4988" is susceptible to interference with the carbon washers at temperatures above 500 degrees F and could result in turbine control problems. The performance of the D-R Inconel stems with the carbon spacers is marginal at elevated temperatures, with the maximum safe operating temperature being well below 600 degrees F.
Evaluation/Recommendation Prepared By:
Title:
Date:
Approved by Mgr. Navy/Nuclear product Engineering:
Date:
5.
DISPOSITION, CHECK ONE
__
Yes, this constitutes a safety hazard and requires that a Final report be prepared (Form EF-066)
__
No, this does not constitute a safety hazard and does not require any further reporting.
Disposition by D-R President:
Date:
RETURN TO MGR. NAVY/NUCLEAR PRODUCT ENGINEERING
Form EF-065
---
| | |
| --- | --- |
| Rev D | REPORT NO. 40 |
| NNSOP 1.2.001 | page 2 of 4 |
Background:
Reference our Field Service Report for the Perry Nuclear Power Plant, Job# RS-7458 with an attached Customer's Analysis Report, signed by Howard Conrad on 10/23/97. The Perry Analysis Report establishes the root cause of the control problem as different rates of thermal expansion between the inconel stem and the carbon washers.
The reverse engineered valve stem diameter measured .4999". This is .0009" over the D-R design limit and is the obvious cause for the stem sticking in this case. However, the calculations in the Perry report do establish the consequences of different rates of expansion and have resulted in industry inquiries as to how D-R justified the larger growth rate of inconel in the already restrictive clearances of the carbon packing.
The issue of the carbon spacer dimensions was resolved as the carbon spacers were returned to D-R and the I.D. confirmed to be between .5000" and .5005" as required by the drawing.
Analysis:
A review of the process used for the selection of inconel 718 material for the new spray coated stem revealed no documented evaluation for the difference in thermal expansion between the Inconel 718 material and 410 stainless steel. The following calculations at MMC (Maximum Material Condition) of the parts show an interference can occur with the inconel stem that can not occur with the original stem. Maximum operating temperature is 560 degrees F.
Original stainless steel nitrided stem:
Coefficient of Thermal Expansion for P-03 carbon is 2.5 micro-in/in degrees F.
Coefficient of Thermal Expansion for 410 stainless is 5.5 micro-in/in degrees F.
(500 degrees F delta T) .
Ring .5000 + (2.5 micro-in/in degrees F x.5000 in x 500 degrees F)
= .5006"
Stem .4990 + (5.5 micro-in/in degrees F x.4990 in x 500 degrees F)
= .5004"
Clearance
= .0002"
Inconel coated stem:
Coefficient of Thermal Expansion for P-03 carbon is 2.5 micro-in/in degrees F.
Coefficient of Thermal Expansion for 718 inconel is 7.2 micro-in/in degrees F.
(500 degrees F delta T) .
Ring .5000 + (2.5 micro-in/in degrees F x.5000 in x 500 degrees F)
= .5006"
Stem .4990 + (7.2 micro-in/in degrees F x.4990 in x 500 degrees F)
= .5008"
Interference
= .0002"
These calculations show the new material closes the original hot running clearance by .0004", and a .0002" clearance is now a .0002" interference. The coefficients for thermal expansion used above are from the Analysis Report done at the Perry NPU . The values for these coefficients that are available from different references vary widely for Inconel (7.2 to 8.6 micro-in/in degrees F) and leave the analytical approach open to debate as to which is the correct value. A simple test (see pg.4) was carried out to verify if the calculated interference could occur with the D-R stem. The results of the test confirmed that the clearance does diminish and eventually bind the carbon washers to the stem. This binding occurred at an approximate temperature of 600 degrees F when the cold clearance was just under .0010". A stem with an initial cold clearance of .0013" stroked freely at 500 degrees F but a substantial increase in force was required when the temperature was raised to 600 degrees F.
Form EF-065
---
| | |
| --- | --- |
| Rev D | REPORT NO. 40 |
| NNSOP 1.2.001 | page 3 of 4 |
Conclusions:
An inconel stem with an ambient diametric clearance of less than .0010" will experience an interference with the carbon spacers that is sufficient to prevent the proper operation of the governor valve. Stems with an ambient diametric clearances between .0010" and .0015" will experience some degree of drag but may perform properly.
All reported problems have been with inconel 718 stems manufactured by BW/IP These stems had an ambient clearance with the carbon spacers of .0010" or less.
The different thermal expansion characteristic of the Inconel 718 material was not addressed in the material selection process for the new D-R valve stem. The testing done for this report indicates the current arrangement is marginally acceptable at best. The maximum force applied to move the test stem with 12 carbon spacers was on the order of 50 lbs. EL-20827 established the net servo force available to move the stem as 131 lbs for the cam type linkage. This will barely be sufficient to move a test stem with the 22 carbon spacers, the number the valve bonnets use. Even though no control problems have been reported with the D-R spray coated stems currently in service, the clearances should be increased to produce full temperature running clearances the same as those previously experienced with the 410 nitrided stems.
Recommendations:
The history of these Nuclear valve stems has demonstrated a conflict between the design philosophy of close fits for steam seals and their impact on the stems during standby. The valve stem corrosion/binding problem has always been associated with the close fit of the carbon washers to the stem. While a tighter clearance may be desirable for steam seal purposes, it increases the probability of the valve stem binding due to corrosion or deposition. Since the latter is a more critical concern to the nuclear industry the following actions should be taken:
| | |
| --- | --- |
| 1. | Increase the I.D. of the carbon spacer from .5000/.5005 to at least .5005/5010. This will restore the original running clearance at operating temperature between the inconel stem and packing. Use of these carbons with 410 material stems will result in a diametrical clearance that is still within the recommended operating range and produce only slightly higher steam leakage. Further analysis may support even greater clearances. |
| 2. | Provide instructions with all carbon spacer orders that advise the user to verify a minimum cold diametrical clearance of .0015" before assembling the parts. The maximum clearance will vary from site to site, depending on acceptable steam leakage. |
| 3. | Inform all affected parties of the potential for control problems after the turbine reaches an operating temperature above 500 degrees F. Recommend that the minimum cold clearance be verified before assembling these parts. If the parts are already in service, then the turbine must be operated long enough to reach the maximum operating temperature and the control capability of the governor valve verified. |
Form EF-065
---
| | |
| --- | --- |
| Rev D | REPORT NO. 40 |
| NNSOP 1.2.001 | page 4 of 4 |
Test Procedure:
An L-gland assembly as shown on drawing A-11097 was assembled using nuclear p/n 800738-001 for the washers and 800714-001 for the carbon spacers. A Spray Coated Inconel valve stem p/n 800746-001, was inserted into this assembly and positioned so the largest diameter (.4991" in the uncoated area) was inside the packing and heated to a temperature greater than 600 degrees F, then Stroking of the stem was attempted.
The configuration of the oven would not allow for the bushing assembly to be positioned on the spray coated area of the stem. Therefore, the parts were heated separately in the same oven. When the parts stabilized at the desired temperature the oven was opened and the parts were assembled and stroked.
Test Results:
| | | |
| --- | --- | --- |
| | CARBON I.D. | DATA |
| 1. | .5001 | Valve stem P/N 800746-001 |
| 2. | .5001 | Ht# N60 |
| 3. | .5001 | O.D. .4988 @ 67 degrees F |
| 4. | .5001 | |
| 5. | .5002 | Smallest Carbon I.D. .5001" |
| 6. | .5002 | |
| 7. | .5002 | Smallest Cold Clearance .0013" |
| 8. | .5002 | |
| 9. | .5002 | Sliding Force, Cold 2 lb @ 80 degrees F (Stem Vertical) |
| 10. | .5003 | |
| 11. | .5003 | 1_/Sliding Force, Hot LOCKED UP @ 600 degrees F |
| 12. | .5003 | 2_/Sliding Force, Hot FREE @ 500 degrees F BUSHING |
| | I.D. | 2_/Sliding Force, Hot 50 to 75 LB @ 600 degrees F Both .5035" |
| | |
| --- | --- |
| 1_/ | The stem was heated while inserted in the packing assembly. The carbons were located on the uncoated area of the stem with a cold diameter of .4991". The stem could be rotated in the guide bushings but no sliding could be accomplished until the stem cooled to under 500 degrees F. |
| 2_/ | The stem and packing were heated separately and then the .4988" coated diameter was inserted into the bushing assembly. At 500 degrees F the coated area stroked freely in the packing, no reading on scale. At 600 degrees F the coated area could be inserted into the packing. Once inserted it could be moved only with considerable force. Accurate measurements were not possible. |
Attachments:
| | | |
| --- | --- | --- |
| Dresser-Rand | Field Service Report | #RS-7458 |
| BW/IP | Governor Valve Stem Drw | #200022 |
| Dresser-Rand | Governor Valve Stem Drw | #800746 |
| Dresser-Rand | Bonnet Bushing Assy Drw | #A-11097 |
| Pure Carbon | Physical Properties Sheet for Purebon | P-03 |
---
FIELD SERVICE REPORT
DRESSER-RAND
| | | |
| --- | --- | --- |
| Services Division | CUSTOMER: Perry Nuclear Power Plant | PAGE 2 of 3 |
| Wellsville, NY 14895 | Location: 10 Center Road | DATE 10/27/97 |
| | Perry, Ohio 44081 | |
| TYPE OF UNIT: GS-2N | | JOB#: RS-7458 |
| SIZE OF UNIT: | | S/N: T-38176A |
| DRIVEN EQUIP: Pump | | S/O: |
Title Page information is for brief overview only. Report work done daily on Details of Daily Work Pages.
DETAILS of DAILY WORK
10/22
Met with Mr. Rick Hays and discussed governor valve sticking problem. Customer had found a broken governor valve stem carbon ring at the outer most gland. Carbon ring was replaced and turbine was on line. Turbine will run for one hour, after the hour run it will be shut down and restarted.
Turbine speed set point was set for 2000 rpm for shut down. When rpm reached 2900 rpm, speed did not drop any lower. Trace readings indicated the governor valve was opened about 25%, and not moving. Unable to go to turbine location at this time.
When able to go to the turbine location (approximately 3 hours. after shut down) I found the governor valve free to move. The linkage was disconnected and the servo checked for binding or sticking through out its range of travel. Also, the governor valve was checked for sticking or binding. No sticking or binding was felt. Checked governor valve travel, set @ 13/16" with approximately 1/8" servo safety travel.
Started inspection/disassembly of the turbine governor valve. There was clearance around the outer packing stem guide (bolted on packing case) to the valve stem. No broken carbon packing rings were found. The inner packing guide had to be tapped out from its fit in the bonnet bore. The valve stem looked in good condition with no signs of scoring or galling evident. Turbine plug valve is in good condition. Plan is to remove valve stem (non-OEM inconel stem) and replace it with the OEM stem. Run the turbine for one hour, shut down and then do turbine quick start. Customer will inspect and document valve stem dimensions. A copy of this inspection report was sent in separate from this field report, along with a copy of a telephone and conference memorandum the customer had with Bill Sweeney.
| | |
| --- | --- |
| SIGNED: Peter Gagnon | SD# 710 Rev. 5 dated: 04/01/96 |
---
FIELD SERVICE REPORT
DRESSER-RAND
Services Division
PAGE 3 of 3
CUSTOMER:
Perry Nuclear Power Plant
Wellsville, NY 14895
Location: 10 Center Road
Perry, Ohio 44081
DATE 10/27/97
| | |
| --- | --- |
| TYPE OF UNIT: GS-2N | JOB#: RS-7458 |
| SIZE OF UNIT: | S/N: T-38176A |
| DRIVEN EQUIP: Pump | S/O: |
Title Page information is for brief overview only. Report work done daily on Details of Daily Work Pages. 10/23 Governor valve re-built and we are waiting to start unit. Customer had found the non-OEM valve stem to be over size (0.4997"- 0.4999") to our spec. of 0.49990" max. Also, carbon rings part # 800714-001 were found to be under size 0.4996", spec. is 0.500" +.0005" - .0000". Under size carbon rings were reamed to correct size and installed.
Turbine started and ran for one hour and ten minutes, shut down. Governor valve moves freely throughout full range of travel. Turbine was quick started twice without any governor control problems. Plant declared turbine operational and put back in service.
When the turbine was tripped out using the solenoid, the trip linkage from the bearing cover unlatched. Discussed this with Mr. Hays and advised the trip linkage be inspected for wear and correct adjustment. Mr. Hays was satisfied with the turbine operation and I was released from site.
| | |
| --- | --- |
| SIGNED: Peter Gagnon | SD# 710 Rev. 5 dated: 04/01/96 |
Information / Data regarding RCIC valve IE51F0511, Governor Valve
From drawing 25-098, Rev 0, the new Inconel 71S valve stem diameter is 0.498 - 0.500 inches
Actual measurements taken in Dedication Lab on 10/23/97 by Mike Brown using an Opticom Qualifier 14B.
Valve Stem
OD - plug end before taper begins
0.4997"
OD - middle of shaft
0.4999"
OD - top of shaft before 4.5" threaded section
0.4997"
Abraded area near top of shaft at approximately the valve spring seat has ridges / burns approximately 0,0007" - 0.0008" high.
There were no areas found out of round and no bending of the stem was evident. This was determined using the Opticom, using depth gauge and sliding V-block setup, and using a calibrated flat table. It should be noted that the threaded area at the top of the shaft (-4.5" is a slightly smaller diameter than the rest of the shaft. Analysis of the shaft using a backscatter analysis confirmed the shaft material as Inconel 718
Carbon spacer
OD
0.9907"
ID
0.4996"
Thk
0.1250"
Carbon spacer was from the warehouse, part number S/C 9006743 which is the new low sulfur carbon spacer, vendor part number 800714-001 on 10/23/97. These spacers are bought non-safety and are not receipt inspected to verify tolerances.
Manufacturer tolerances per telecon on 10/23/97 Howard Conrad to Bill Sweeney (Dresser Rand):
Valve stem:
OD

0.4985"-0.4990"
Carbon spacer:
OD
0.990"+/-0.001"
ID
0.500"+0.0005"-0.0000"
THK
0.125"+/-0.001"
Note:
The tolerances on the old carbon spacers was the same as for the new ones.
Dimensions from BWIP drawing, CEI number 4549-25-098, Rev 0 gives the valve stem diameter as 0.498"-0.500". The coefficient of expansion for Inconel 718 (new valve stem material) is 7.2 micro-in/in degrees F (ref Machinery's. Handbook, 25th ed) and for Stainless Steel ASTM A276 Gr S41000 (old/original stem material) is 5.5. Therefore, for 0.5" of material this equates to approximately a 30% increase in thermal expansion in the new (Inconel) material over the old material. Therefore, given a 500 degrees F temperature change and 0.5", the increase in size is approximately:
| | |
| --- | --- |
| | Inconel 718: 0.0018" |
| | A276 Gr 41000: 0.0014" |
The end result using the dimensions above for the Inconel stem and the new carbon spacers is
stem OD
cold: 0.4999"
hot: 0.5017"
spacer ID
as measured 0.4996" as it should be: 0.5000" - 0.5005
Using the old stem at the lower limit of diameter of 0.4985"
stem OD
cold: 0.4985"
hot: 0.4999"
spacer ID
as measured 0.4996" as it should be: 0.5000" - 0.5005
cc:
Rick Hayes
Daryl Gruver
Hiram Reppert
Jeff Vargo
Paul Roney
Dave Reyes
Steve Mackowski
Dick Stadel
Mike Brown
---
Figure "VALVE GOVERNOR STEM"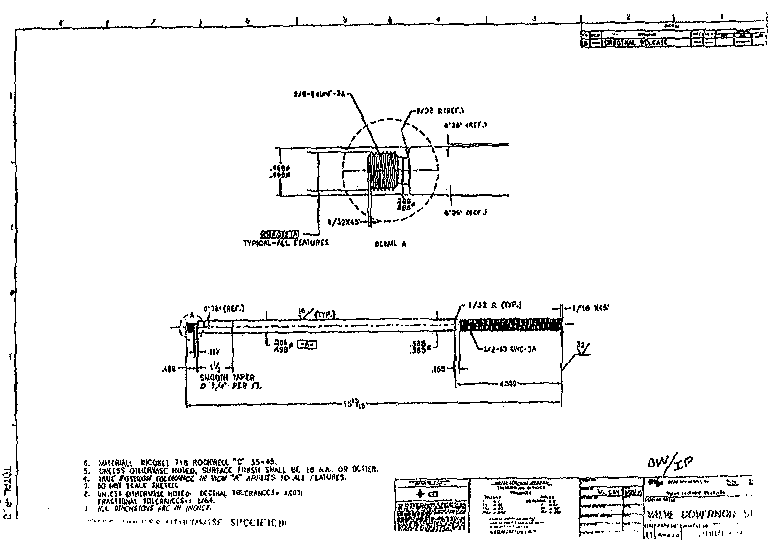 ---
Figure 800746 "STEM - VALVE, .50 DIA."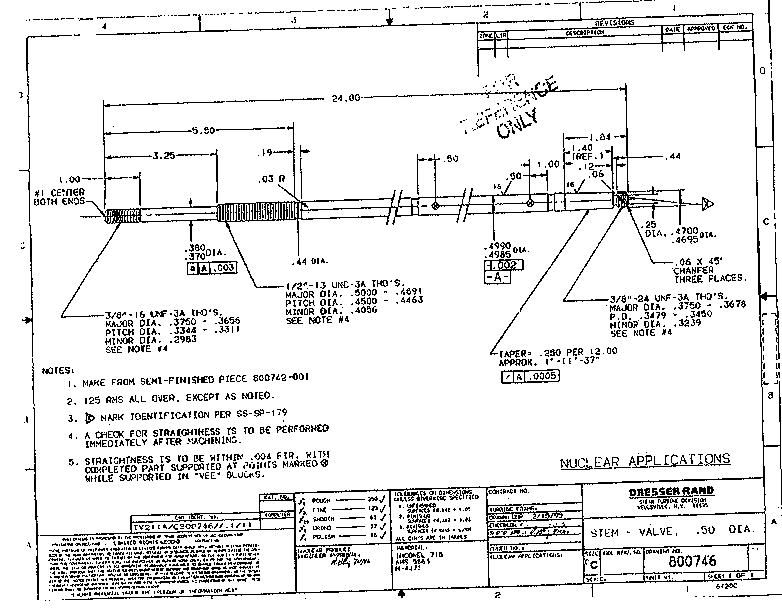 ---
Figure A-11097 "BONNET BUSHING ASSY
"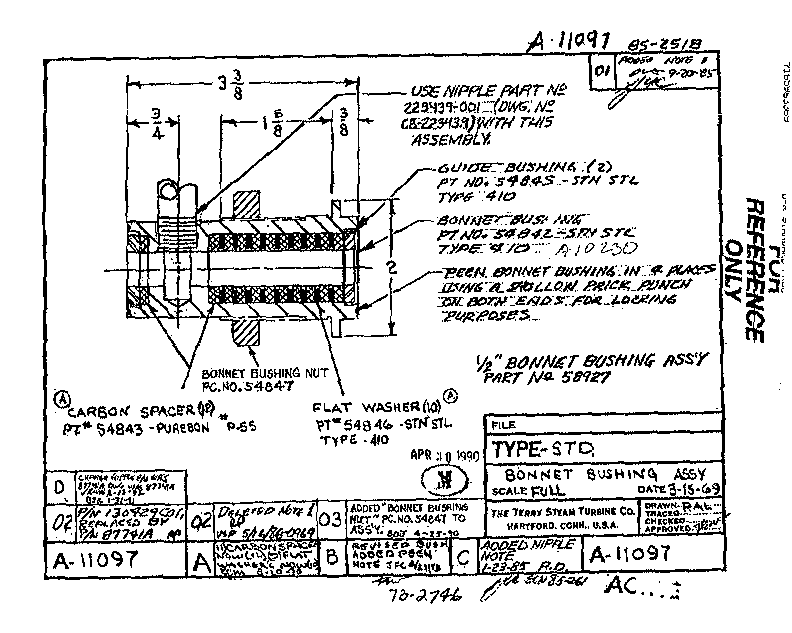 ---
PURE
PURE INDUSTRIES, INC.
PURE CARBON CO.
TYPICAL PHYSICAL PROPERTIES
Purebon P-03
Apparent Density, gm/cm**3
1.82
Flexural Strength, psi
8,000
Hardness, Scleroscope
75
Compressive Strength, psi
20,000
Tensile Strength, psi
5,500
Modulus of Elasticity, psi
1.8 x 10**6
Specific Resistance, ohm/Inch cube
.0006
Ash, % Weight
0.2
Corrosion Resistance Group (See Catalog)
A
Porosity, % Volume
8
Pore Volume, cm**3/gm
0.04
Permeability, micro Darcies
1200
Grain Size (Inches)
.003
Temperature Limit
Oxidizing Atmosphere, degrees F
1000
Neutral Atmosphere, degrees F
6000
Specific Heat, BTU/lb degrees F (70 to 1000 degrees F)
.21
Coefficient of Thermal Conductivity, BTU/hr. ft**2 - degrees F/ft (at 70 degrees F)
40
Coefficient of Thermal Expansion. micro-in/in degrees F(70 to 1000 degrees F)
2.5
March 8, 1994
441 Hall Avenue, St Marys, PA 15857 U S A Phone: (814) 781-1573, Fax 814-781-9262 or 814-781-9268.
---
*** END OF DOCUMENT ***
---
---
Page Last Reviewed/Updated Wednesday, May 27, 2020
Home
About Us
Popular Documents
Stay Connected