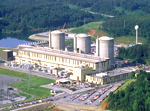 Regulations, Guidance, and Communications
On this page:
This page includes links to files in non-HTML format. See Plugins, Viewers, and Other Tools for more information.
Regulations
NRC's regulations are found in Chapter I of Title 10, "Energy," of the Code of Federal Regulations (10 CFR). Chapter I is divided into Parts 1 through 199. The following are the principal parts governing the nuclear power plant operators.
See also, information on all NRC Rules and Petitions.
The NRC welcomes Public Involvement in Rulemaking, and invites the public to comment on proposed rules and policies, licensing actions, and draft technical documents. We announce public comment opportunities in the Federal Register and on our Documents for Comment page.

Guidance
Regulatory guides (RGs) are issued in ten divisions and are intended to aid licensees in implementing regulations.The guides most applicable to licensing operators are in Power Reactors (Division 1).
The following guides in these divisions are the ones most relevant to licensed operators.
Each regulatory guide is listed by division number; title; date issued, and revisions, if applicable. A guide available at this site has an underscored number. Draft regulatory guides are listed separately. Many regulatory guides are available in NRC's Agency Document Access and Management System (ADAMS).
NUREGs are NRC published reports in the NUREG-series, covering a variety of regulatory, technical, and administrative subjects. The following publications are the ones most relevant to the operator licensing process:
Additional guidance pertaining to operator licensing is included in the following:

Communications
Generic Communications are NRC's primary method of sending information to specific classes of licensees. See our page on Generic Communications Related to Operator Licensing. For information about the types of generic communications see:

Page Last Reviewed/Updated Monday, October 07, 2019
Home
About Us
Popular Documents
Stay Connected