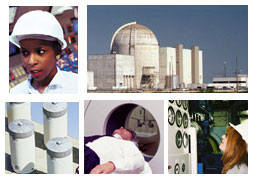 Response to Hurricanes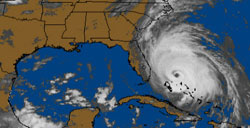 NRC closely monitors tropical storms and hurricanes as they approach the U.S. mainland. If the projected path of a hurricane shows possible impact on a coastline within about 120 hours, one or more of NRC's four Regional Offices (Region I in King of Prussia, PA; Region II in Atlanta, GA; Region III in Lisle, IL; and Region IV in Arlington, TX) will begin round-the-clock hurricane tracking using the resources of U.S. government (including the National Hurricane Center and National Weather Service) and commercial weather forecasting services.
As the hurricane approaches, each region will provide updates to the Headquarters Operations Center on its preparedness activities underway, including staffing of the Regional Incident Response Center (IRC), its assignment of additional staff to supplement the NRC resident inspectors on site, and the actions underway to ensure continuous communications with all NRC-licensed facilities along the projected path of the storm.
About 48 hours before expected hurricane-force winds, NRC officials will be dispatched to the State Emergency Operations Centers. NRC Regional and Headquarters response personnel will be identified and placed "on-call" to respond to any storm-induced emergency if needed. Normal and backup communications channels will be tested.
About 12 hours before expected hurricane-force winds, NRC will enter one of its response modes (Monitoring or Activation) and begin receiving continuous status updates from all of the nuclear facilities in the hurricane's path. Communications links will be established and maintained with State emergency response officials and other Federal response agencies.
During the hurricane's passage, the NRC will maintain close contact with the licensee staff and with NRC inspection staff on site. If normal communications are lost, backup communications systems will be used.
Following the hurricane's passage, NRC will help assess the extent of damage to the facility and, if necessary, respond to any storm-induced problems. NRC will also work closely with the Federal Emergency Management Agency (FEMA) to determine when the offsite emergency response organizations will be sufficiently recovered from the hurricane response to resume normal (day-to-day) response planning activities.
For more information, visit FEMA's preparedness information on Hurricane.
Page Last Reviewed/Updated Friday, November 16, 2018
Home
About Us
Popular Documents
Stay Connected