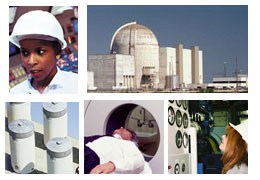 Enforcement Guidance
Many links on this page are to documents in Adobe Portable Document Format (PDF). See our Plugins, Viewers, and Other Tools page for more information.
On this page:
See also Dispositioning of Enforcement Issues in a Risk-Informed Framework - Memorandum from Director, Office of Enforcement, December 5, 2000.
Enforcement Manual
On September 9, 2013, the NRC completed the ninth full revision of the NRC Enforcement Manual. This document is used by the NRC enforcement staff. Revision 9 is a joint effort that draws on the knowledge and experience of the enforcement staff from across the Agency. The manual is a living document that is regularly updated for accuracy.
The Manual was first published in June 1990 as a tool to assist the NRC staff in implementing the Commission's enforcement program consistent with NRC's Enforcement Policy. Intended for internal use by the NRC, the Manual contains procedures, requirements, and background information used by the staff that develop or review enforcement actions. As such, failure to follow the guidance in this Manual does not invalidate an enforcement action.
This Manual supersedes the previous version issued as Revision 8 (February 1, 2013). Revision 9 includes multiple changes, but mainly restructures the information provided in previous revisions of the Manual into a more user-friendly format. Revision 9 is arranged in three Parts with each Part containing Chapters that provide detailed guidance on a focused subject matter area. Part I provides guidance on the general enforcement process and how to disposition noncompliances. Part II provides guidance on specific issues of interest.  Part III contains information previously located in the Appendices A through D. Revision 9 includes hyperlinks to other NRC documents as provided in previous revisions to the Manual. Updates to the Manual not resulting in a full revision will be made as necessary and documented in Enforcement Manual Change Notices documented in the Change Notice Index below.
Revision 9 contains all the guidance and information provided in Revision 8. In order to make the transition to the restructured format of Revision 9, the NRC has developed a document that displays where the guidance and information was located in Revision 8 and where that guidance and information is located in Revision 9. This "road map" is located at ML13248A356. In addition, the NRC will make Revision 8 available for review for a short time to facilitate transition to the restructured format; however, further updates and changes to Revision 8 will not be made. Revision 8 is located at ML13249A009.
A more detailed summary of the changes in Revision 9 is included in Revision 9 - Summary of Changes
Change Notice Index
Part I and Part II
Part I – NRC Enforcement Process
Part II – Topical Chapters
Part III
Appendix A: Temporary Enforcement Guidance
Appendix B: Standard Formats for Enforcement Packages
Appendix C: Standard Citations for Enforcement Actions
Appendix D: Enforcement Processing Aids and Forms
Appendix E: Examples of Minor Violations

Inspection Manual - Excerpts
The NRC Inspection Manual includes procedures for issuing Notices of Enforcement Discretion (NOEDs) for Power Reactors and Gaseous Diffusion Plants.
Memoranda of Understanding Between NRC and Other Agencies Regarding Enforcement

Page Last Reviewed/Updated Friday, October 10, 2014