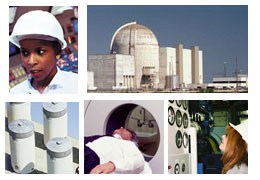 Adjudications (Hearings)
Under the Atomic Energy Act, Congress established an adjudicatory process that promotes public involvement in hearings on a variety of civilian nuclear matters. Through this hearing process, independent judges on the Atomic Safety and Licensing Board Panel (ASLBP) hear and address concerns of individuals or entities that are directly affected by any licensing or enforcement action involving a facility that produces or uses nuclear materials. Upcoming hearings are listed in our proceedings schedule.
Electronic Hearing Docket
This section provides a link to the official dockets maintained by the Office of the Secretary in accordance with the requirements of 10 CFR Part 2. The docket materials are organized in folders by proceeding name and contain all publicly available documents that are included in the docket for hearings that may be held by the ASLBP or the Commission.
Additional links on this page provide guidance on the steps necessary for participation in a proceeding before the Commission and an Atomic Safety and Licensing Board, or another presiding officer; and reference materials that are important resources for hearing participants.
About the Adjudicatory Process
ASLBP and Commission Responsibilities

Page Last Reviewed/Updated Monday, October 20, 2014