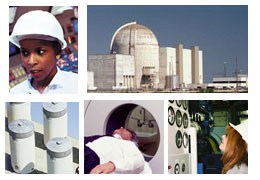 Enforcement Policy
On January 21, 2015, the Commission approved expanding the ADR program to offer ADR as an option for non-willful (traditional) enforcement cases with the potential for civil penalties (not including violations associated with findings assessed through the Reactor Oversight Process). This expansion will be included as a change to the Enforcement Policy soon to be published in the Federal Register.
(The current version of the Enforcement Policy, dated July 9, 2013, is available in ADAMS at ML13228A199.)
The Enforcement Policy is applicable to enforcement matters involving the radiological health and safety of the public, including employee health and safety, the common defense and security, and the environment. However, the medical event reporting interim enforcement policy applies only to medical events occurring under an NRC licensee's permanent implant brachytherapy program.
In a notice published in the Federal Register on March 16, 2005, the Commission announced its intent to use the NRC public Web site and the NRC's Agencywide Document Access and Management System (ADAMS) to communicate its "General Statement of Policy and Procedure for NRC Enforcement Actions - Enforcement Policy," to discontinue publication of the paper document, NUREG-1600, and to simplify the official policy statement title. The NRC is taking these actions because the policy statement is available electronically on the NRC public Web site and is widely known as the "NRC Enforcement Policy."
On October 9, 2014, the NRC published a proposed revision to the Enforcement Policy (Policy) for a 45 day comment period (Federal Register Notice 79 FR 61107). The proposed revision is available in ADAMS at ML14283A451.
On October 15, 2014, the Nuclear Energy Institute, Inc. submitted a request (ML14297A314) to extend the comment period for an extra 30 days after taking this request under consideration, the NRC has decided to grant all stakeholders this extension (ML14297A370). The comment period will now end on December 22, 2014.
The following links are to recent proposed revisions of the Enforcement Policy, which the NRC issued for public comment and NRC's responses to the public's comments:
Comments on draft updates of the Enforcement Policy may be submitted electronically via Regulations.gov. See Documents for Comment page.
The following links are to recent revisions of the Enforcement Policy:
(Revision incorporates changes to enforcement discretion for Implant Brachytherapy Medical Event Reporting)

(Revision incorporated changes in SRM-SECY-09-0190 and other proposed changes evaluated by the staff.)

(Revision related to construction topics, including enforcement discretion.)

(Extension for Interim Enforcement Discretion for Certain Fire Protection Issues [staggered submittal approach].)

(Revision related to interim Policy for minimum days off requirements of the NRC's fitness for duty regulation.)

(Major revision to clarify the use of terms and update the Policy, removing outdated information and adding information addressing enforcement issues in areas that are not currently directly addressed in the Policy.)
For previous revisions of the Enforcement Policy, see
History of Enforcement Policy
.
Page Last Reviewed/Updated Friday, February 06, 2015