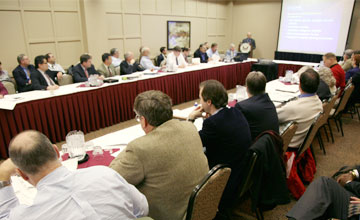 Conferences & Symposia
The table contains information about all annual or planned U.S. Nuclear Regulatory Commission (NRC) conferences, symposia, and workshops and links to more detailed information.
This page includes links to files in non-HTML format. See Plugins, Viewers, and Other Tools for more information.
Meeting Title
Date
Location
Contact
June 10-11, 2014
Nuclear Regulatory Commission Auditorium
11545 Rockville Pike
Rockville, MD 20852

Maria Guardiola
301-287-9118

2014 NRC–RES/EPRI Fire PRA Course
August 18-22 & September 29-October 3, 2014
US NRC Professional Development Center
11601 Landsdown Street Rockville, Maryland 20852
Kendra Hill
301-251-3300
Nicholas Melly
301-251-7916


Regulatory Information Conference

March 10-12, 2015
Bethesda North Marriott Hotel and Conference Center
5701 Marinelli Road
North Bethesda, MD 20852

Lorna Kipfer
301-415-4065

Brenett Warren
301-415-3114

Operational and Regulatory Aspects of Criticality Safety (ORACS)
May 19-21, 2015
Albuquerque, New Mexico, United States

Marilyn.Diaz@nrc.gov
301-287-9068

Robert.Johnson@nrc.gov
301-287-9083

Division of Spent Fuel Management Regulatory Conference (REG CON)
November 19-20, 2014
Nuclear Regulatory Commission
Commissioner's Hearing Room
11545 Rockville Pike
Rockville, MD 20852

Haile Lindsay
301-287-0665
The Exit icon

is placed directly after an external link to let you know that the link is going to take you away from the NRC pages. For more information, refer to the Site Disclaimer.
Page Last Reviewed/Updated Monday, March 09, 2015