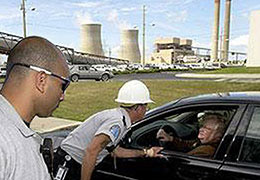 Get Credentialed to Access NSTS
The easiest way to report to the National Source Tracking System (NSTS) is electronically online. In order to report to NSTS online, you will need to enroll for a digital certificate. The NSTS is a secure, Web-based database designed to enhance the accountability of radioactive sources. As such, the security of the NSTS is based in part on the use of "digital certificates," which are loaded onto hard tokens or smart cards. A digital certificate is an electronic identification which establishes a user's credentials when processing transactions on the Web. The use of digital certificates allows the NSTS to uniquely identify each user. The process of obtaining the digital certificate is called credentialing. There are only three steps (Steps 1,4, and 7) the NSTS user must take to become credentialed. It is easy to do and should take no more than 10 minutes to enroll. If you have Category 1 and/or 2 sources and have not already enrolled, enroll today!
Begin the credentialing process for online access to NSTS
Step 1: Online Enrollment
Time Estimate:
No more than 10 minutes to complete this step
Visit the Web-based Digital Certificate Center.
Select "Digital Certificate Center (DCC) for NSTS."
Choose "New Request."
Follow the guidance provided to enroll for your digital certificate. (The enrollment process should take no more than 10 minutes to complete.)
Steps 2 and 3 will be completed by the NRC and no action is required by applicant.

Step 4: Subscriber Agreement
Time Estimate: Within about a week of submitting your online enrollment, you will receive a "proof of identity" package in the mail. It should take no more than 10 minutes to complete the subscriber agreement and have the document notarized. Once the subscriber agreement is completed and sent in the mail, you will receive your smart card and card reader within a couple weeks.
Provide notary with:


Subscriber Agreement Form (provided via mail after online enrollment)
Two acceptable forms of identification
A recent passport-style photograph

Notary will place the necessary documents (form, copies of IDs, and photo) into the provided tamper-resistant envelope and seal the package.
Mail the identity package back to VeriSign for review.



Symantec Corporation
Attn: VeriSign NRC
Authentication Support
350 Ellis Street
Mountain View, CA 94043
Steps 5 and 6 will be completed by the NRC and no action is required by applicant.

Step 7: Smart Card and Card Reader Activation
After approving the identity package, VeriSign will mail you a Smartcard and card reader. (The Smartcard is a pocket-sized card with embedded integrated circuits to process data and provide strong security authentication for sign-on to the NSTS.) In addition, VeriSign will separately inform you how to access the credentialing Web site and load your digital authentication certificate onto your Smartcard.
Need help finishing the credentialing process?

Page Last Reviewed/Updated Thursday, June 28, 2012