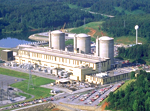 Fire Protection Program for Operating Reactors
Consistent with the mission of the U.S. Nuclear Regulatory Commission (NRC), the staff of the agency's Office of Nuclear Reactor Regulation (NRR) pursues a variety of regulatory and oversight activities to protect people and the environment from the effects of fire in operating nuclear power plants.
The NRC's fire protection regulations, inspections, and research focus on continuing nuclear power plant safety. To accomplish this, the NRC requires a robust fire protection program at every commercial nuclear power plant in the United States. The current operating reactor facilities are operating safely.
For information about NRR's current fire protection activities for operating reactors, see the following pages, as well as Related Information About Fire Protection:
Page Last Reviewed/Updated Monday, April 29, 2013