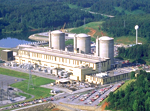 Regulations and Standard Review Plan Concerning Radiation Protection for New Reactors
Regulations issued by the U.S. Nuclear Regulatory Commission (NRC) are found in Chapter I of Title 10, "Energy," of the Code of Federal Regulations (CFR). Chapter I is divided into Parts 1 through 199. Among these, all NRC licensees are required to implement the regulations in 10 CFR Part 20, "Standards for Protection Against Radiation," to protect the public, occupational workers, and the environment from ionizing radiation associated with licensed activities. Consequently, the NRC staff will throroughly review all new reactor applications to ensure that applicants are in compliance with these standards and all associated radiation protection regulations. For information about other regulations associated with radiation protection programs, as well as the applicable sections of the NRC's "Standard Review Plan for the Review of Safety Analysis Reports for Nuclear Power Plants" (NUREG-0800), see the following topics on this page:
Regulations

Standard Review Plan
This page includes links to files in non-HTML format. See Plugins, Viewers, and Other Tools for more information.

Page Last Reviewed/Updated Friday, April 19, 2013