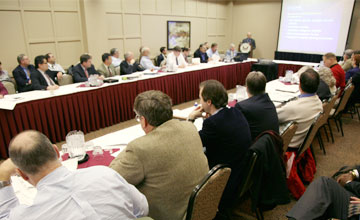 Sharing Information through Social Media
When we published our first Open Government Plan in April 2010, the U.S. Nuclear Regulatory Commission (NRC) embraced a Flagship Initiative to enhance our engagement and communication with the public and other agency stakeholders. The use of social media was one key aspect of that initiative. Social media enables the NRC to reach a broader audience and to better engage, inform, and educate the public — in real-time, through multiple channels. For information about our foray into social media, please see the following topics on this page:
For highlights of our success in this initiative, see NRC Social Media Metrics and
NRC Social Media Trends. For the related privacy policies and security notice, see Use of Social Media.
NRC Blog
To inform the public and encourage dialogue, we use WordPress® to publish the NRC Blog. This forum serves as a vehicle for informing, explaining, and clarifying the actions, roles, and responsibilities of the NRC, and raising awareness about our agency and its mission. It also enables you to share your ideas with the NRC in a moderated forum. Since the blog debuted on January 31, 2011, we've continued to engage the public by publishing regular posts on topics ranging from the NRC's role in international nuclear affairs to new ways to find information on our public website.

We're delighted that our new blog is attracting thousands who want to know more about the NRC! We invite you to use the blog to —

Review recent postings about topics of interest.
Submit ideas.
Comment on ideas submitted by others.
Learn more about our mission and regulatory activities.

You can also access the blog using mobile devices (such as smart phones) by entering the site address (http://public-blog.nrc-gateway.gov/) in the device's Web browser.

NRC Twitter Feed
| | |
| --- | --- |
| The NRC Twitter Feed is a channel for NRC announcements about press releases, blog posts, meeting notices, Federal Register notices, speeches, reports, and other real-time snippets of information that may be retweeted by followers. | |

NRC YouTube Channel
| | |
| --- | --- |
| The NRC YouTube Channel enables the NRC to publish existing and newly created videos that feature brief topics of interest to inform and educate the public. We anticipate posting small segments of some important Commission briefings, videos previously produced but not extensively distributed, and new content. We hope the videos will enhance the public's understanding of the agency and its mission, and give a face to the people who work hard every day to protect people and the environment. We won't be taking comments on YouTube, but have created a YouTube Comments category on the NRC Blog for feedback on our videos. | |

NRC Flickr Gallery
The NRC Flickr Gallery enables the NRC to share new and historical photos and graphics to raise awareness of the agency's activities. It allows the public to easily browse, view, and download images. Among the benefits is the ability to "tag" a photo. Tags are keywords associated with each image that makes it much easier to search for images. Flickr also allows us to organize NRC photos into sets, which can then be viewed as a slideshow. These sets are a group of photos, which are categorized under a single heading –such as operating power reactors. Flickr also has an RSS Feed option that can notify you whenever a new photo is uploaded.

Images uploaded on Flickr can be viewed by anyone and found easily on a variety of search engines such as Google, Bing, and Dogpile. We hope this will translate into more traffic to our photos and an increased understanding about the NRC mission and activities. All photos on the site continue to be free, and anyone can download them for their use. In addition, with Flickr, it is extremely easy to create or join an existing community, such as the Official US Government Photostreams, a group comprised of official U.S. federal, state, and local government image banks on Flickr.

NRC RSS Feeds
| | |
| --- | --- |
| RSS, which stands for Really Simple Syndication, is an easy way to keep up with your favorite newsand information. The NRC RSS Feeds contain headlines, summaries, and links to information on our website. Specific feeds provide easy access to NRC news releases, daily event reports, power reactor status reports, and other topics of interest. | |

Page Last Reviewed/Updated Friday, November 15, 2013