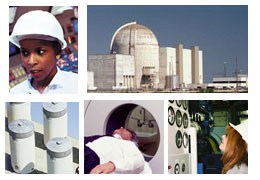 Other Useful Small Business and Acquisition Links
This page provides links to a variety of non-NRC servers and Web sites, which offer a wealth of information and resources that may be useful to small businesses. However, please note that the U.S. Nuclear Regulatory Commission (NRC) is providing these links solely as a reference for the convenience of users. The NRC cannot guarantee the authenticity of documents or the validity of information obtained at these non-NRC sites. For additional information, see our Site Disclaimer and the following topics on this page:
Web Resources
For more information about opportunities for small businesses, see the following links to non-NRC servers and Web sites:

Training
The SBA offers more than 25 free online courses that may be valuable to small businesses.
Upcoming Events
NRC Quarterly Business Seminar – The US Nuclear Regulatory Commission (NRC) conducts a "Quarterly Business Seminar" to discuss "How to Conduct Business With the NRC".
In addition, the following non-NRC events may be useful to small businesses:

Page Last Reviewed/Updated Tuesday, June 04, 2013