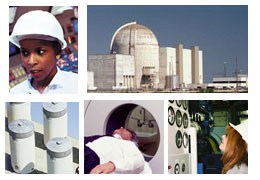 Quarterly Business Seminars
The U.S. Nuclear Regulatory Commission (NRC) is committed to supporting and protecting the interests of small businesses, including those owned by the disadvantaged, women, veterans, and service-disabled veterans, as well as those located in Historically Underutilized Business Zones (HUBZones), and ensuring that they have equitable opportunities to compete for NRC prime and subcontracts. Toward that end, the NRC's Small Business Program aids, counsels, and assists small businesses interested in providing products and services to the agency in support of mission operations. In particular, the Small Business Program hosts and delivers in collaboration with the agency's Division of Contracts, Office of the General Counsel, and the major technical program offices, a Quarterly Business Seminar (Seminar) on how to conduct business with the agency. These Seminars are planned for the first Thursday of each quarter in Rockville, Maryland and are available through webinar and webstreaming services.
In addition, as part of the agency's commitment to small businesses, the NRC maintains an archive of information pertaining to past Seminars. For access to this archive, see the following pages:
Our Public Meetings and Involvement page and NUREG/BR-0215, "Public Involvement in the Regulatory Process," provide general information about the available opportunities for public involvement in NRC activities. To learn more about the NRC's meeting process and opportunities to participate, see About Public Meetings and Frequently Asked Questions About Public Meetings.
For more specific information on upcoming meetings, see the NRC's Public Meeting Schedule and Conferences and Symposia, which provide notices, agendas, and other information about Quarterly Business Seminars, as well as Commission, Advisory Committee, and staff meetings. Alternatively, small business representatives who do not have access to the Internet can contact the staff of the NRC's Public Document Room for information about scheduled meetings.
Page Last Reviewed/Updated Monday, August 12, 2013