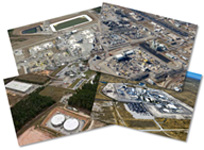 Regulations, Guidance, and Communications Related to the Disposal Process for Waste Incidental to Reprocessing
On this page:
Regulations
Regulations issued by the U.S. Nuclear Regulatory Commission (NRC) are found in Chapter I of Title 10, "Energy," of the Code of Federal Regulations (CFR). Chapter I is divided into Parts 1 through 199. Of these, 10 CFR Part 61, "Licensing Requirements for Land Disposal of Radioactive Waste" (which governs low-level waste), is the most relevant to the disposal of waste incidental to reprocessing (WIR).

Guidance
Guidance documents that may prove useful to stakeholders include the following resources:
NUREG-1854, "NRC Staff Guidance Document for Activities Related to U.S. Department of Energy Waste Determinations"
Web (HTML) versions of some guidance documents are available in our NUREG-Series Document Collection. Some are also available in the NRC's Agencywide Documents Access and Management System (ADAMS); see our table listing their availability.

Communications
Generic communications are the NRC's primary method of sending information to specific classes of licensees. These communications may take the following forms:

Page Last Reviewed/Updated Tuesday, November 19, 2013