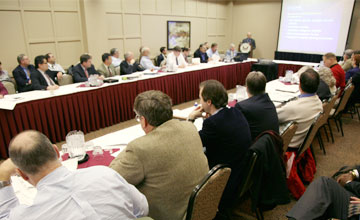 Commission Meeting Webcast Information
The U.S. Nuclear Regulatory Commission (NRC) broadcasts Commission meetings over the Internet as a means of improving communications with the public. To view live or archived Commission meeting webcasts, or other NRC Meeting Webcasts, please see our Webcast Portal.
For details on upcoming Commission Meeting Webcasts, see the following on this page:
Upcoming Commission Meeting Webcasts
Date
Subject
10/02/14
Meeting with the Advisory Committee on Reactor Safeguards (ACRS)
(PUBLIC MEETING)
Contact:  Ed Hackett, 301-415-7360
10:00 A.M.
10/07/14
Briefing on the Status of Near-Term Task Force Recommendation 2 for Seismic Hazard Reevaluations
(PUBLIC MEETING)
Contact:  Nicholas DiFrancesco, 301-415-1115
9:00 A.M.
10/30/14
Briefing on Watts Bar Unit 2 License Application Review
(PUBLIC MEETING)
Contact: Justin Poole, 301-415-2048
9:00 A.M.

Schedules, Slides, Transcripts, and Other Resources
The following resources will assist you in participating in Commission Meeting Webcasts:

Notes on Accessibility
Section 508 of the Rehabilitation Act requires equal access to the Federal Government's electronic and information technology. In compliance with this Act, the NRC includes text equivalents (captioning) as part of the agency's videos and Webcasts. Although every effort is made to ensure the accuracy and completeness of this text, users should be aware that errors may nonetheless occur. Expressions of opinion in this text do not necessarily reflect final determination or beliefs. No pleadings or other paper may be filed with the Commission in any proceeding as a result of any statement or argument contained in the text-equivalent (captioned) material.

Page Last Reviewed/Updated Thursday, September 18, 2014