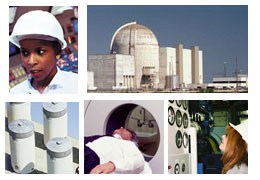 Tribal Policy Statement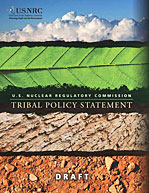 The U.S. Nuclear Regulatory Commission (NRC) consults with Federally-recognized Tribes on a case-by-case basis regarding various licensing actions.  Recently, a heightened interest in uranium recovery development and new nuclear reactor construction has resulted in a significant increase in the number and complexity of consultations between the NRC and Tribal governments.
In light of these increased interactions with Tribes, the Commission issued "Staff Requirements Memorandum (SRM) COMWDM-12-0001, Tribal Consultation Policy Statement and Protocol," directing staff to develop a Tribal Policy Statement.
2012 Federal Register Notice and Public Comment Period
In October 2012, the NRC solicited suggestions for the Tribal Policy Statement along with comments on the NRC Tribal Protocol Manual.  The Federal Register notice sought public feedback on the following questions:
How can the NRC strengthen government-to-government relationships with Native American Tribes?
What practices have the NRC or other Federal agencies employed that have been effective in identifying Tribal interests and resolving tribal concerns about proposed agency actions?
Are there specific Tribal Policy Statements in other Federal agencies that could serve as a starting point for the NRC efforts?
What unique Tribal issues should the NRC be aware of as a non-land holding, regulatory agency that issues licenses under the Atomic Energy Act?
Respondents were not limited to these questions and were encouraged to submit any information that would benefit the NRC in developing a Tribal Policy Statement.  Tribal governments and organizations, the public, and other interested parties were encouraged to submit comments during a 180-day comment period that ended April 1, 2013.

2014 Anticipated Public Comment Period
A Draft Tribal Policy Statement is expected to be published for comment in the Federal Register in the Spring of 2014.  (The content of this page will be updated at that time to include information related to the public comment period.)
Contact Us
Interested parties may access information related to the NRC Tribal Policy Statement by searching Regulations.gov under Docket ID NRC-2012-0235.  You may also Contact Us to receive additional information regarding the proposed Tribal Policy Statement and anticipated public comment period.

Page Last Reviewed/Updated Friday, March 07, 2014