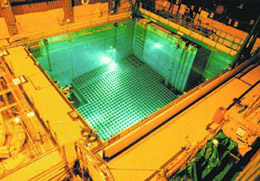 GEIS and Waste Confidence Rule References: Author W
Walker, J.F.  1979. The Long-Term Storage of Irradiated CANDU Fuel UnderWater.
Whiteshell Nuclear Research Establishment, Pinawa, Manitoba.
Washington State Department of Transportation.  2011.  Biological Assessment Preparation for Transportation Projects—Advanced Training Manual–Version 02-2011.  Olympia, Washington.
Williams, J.D., M.L. Warren, K.S. Cummings, J.L. Harris, and R.J. Neves.  1993.  "Conservation  Status of Freshwater Mussels of the United States and Canada."  Fisheries 18:6–22.  Philadelphia, Pennsylvania.
Witman. J.D.  1987.  Subtidal Coexistence: Storms, Grazing, Mutualism, and the Zonation of Kelps and Mussels.  Ecological Monographs 55:421–445, Ithaca, New York.

Page Last Reviewed/Updated Friday, November 08, 2013