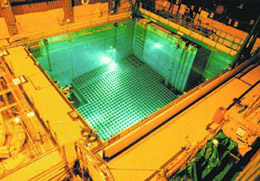 Potential GEIS and Waste Confidence Rule References: Author T
Tennessee Valley Authority (TVA).  2011.  TVA Voluntary Response to RIS 2011-02.  Chattanooga, Tennessee.
Todd, D.K. 1960.  Groundwater Hydrology.  Second Edition, New York, New York.  (Paperback ASIN: B0000CKCBZ).
Transnuclear, Inc.  2004.  Final Safety Analysis Report.  Volume 3 of 4, Appendix M, Standardized NUHOMS® Horizontal Modular Storage System for Irradiated Nuclear Fuel Hawthorne, New York.
Texas Water Development Board.  2012.  Water for Texas: 2012 State Water Plan.  Austin, Texas.
Travis, R.J., R. Davis, E.J. Grove, and M.A. Azarm.  1997.  Safety and Regulatory Assessment of Generic BWR and PWR Permanently Shutdown Nuclear Power Plants.   NUREG/CR-6451  Brookhaven National Laboratory, Washington, D.C.

Page Last Reviewed/Updated Friday, November 08, 2013