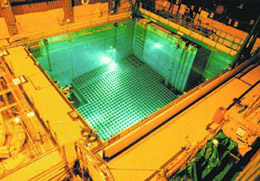 GEIS and Waste Confidence Rule References: Author H
Hall, C.A.S., R. Howarth, B. Moore, III, and C.J. Vorosmarty.  1978.  "Environmental Impacts of Industrial Energy Systems in the Coastal Zone."  Annual Review of Energy 3:395–475, Palo Alto, California.
Hasseett-Snipple, B.M.  2011.  National Ambient Air Quality Standards (NAAQS) for Particulate Matter (PM):  Current Review – Focus on Primary PM2.5 Standards.  EPA/WESTAR Residential Wood Smoke Workshop, Salt Lake City, Utah.
Holtec International.  2000. Final Safety Analysis Report for the Holtec International Storage and Transfer Operation Reinforced Module Cask System (HI-STORM 100 Cask System).  Revision 0.  Marlton, NJ.

Page Last Reviewed/Updated Friday, November 08, 2013