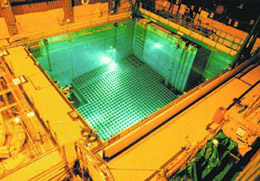 GEIS and Waste Confidence Rule References: Author G
GAO (General Accounting Office).  2004.  Low-Level Radioactive Waste—Disposal Availability Adequate in Short Term, but Oversight Needed To Identify Any Future Shortfalls.  GAO-04-604, U.S. Nuclear Regulatory Commission, Washington, D.C.
Gauntt, R.O.  2010. MELCOR 1.8.5 Modeling Aspects of Fission Product Release, Transport and Deposition. Sandia Report, SAND2010-1635.
GCRP (U.S. Global Change Research Program).  2009.  Global Climate Change Impacts in the United States.  T.R. Karl, J.M. Melillo, and T.C. Peterson, eds.  Cambridge University Press, New York, New York.
GE (General Electric Company).  2004.  Morris Operation Consolidated Safety Analysis Report.  NEDO-21326D11, Morris, Illinois.
Geniesse, D.J. and G.E. Stegen.  2009.  2009 Evaluation of Tritium Removal and Mitigation Technologies for Wastewater Treatment.  DOE/RL-2009-18, Richland, Washington.
Government in the Sunshine Act of 1976.  5 USC 552b.

Page Last Reviewed/Updated Friday, November 08, 2013