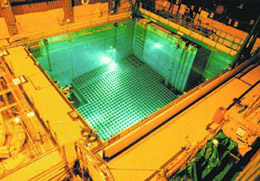 GEIS and Waste Confidence Rule References: Author B
Back, W., J.S. Rosenshein, and P.R. Seaber, eds.  1988.  The Geology of North America: Volume 0-2: Hydrogeology.  The Geological Society of America, Boulder, Colorado.  (Textbook)
Bald and Golden Eagle Protection Act of 1940, as amended.  16 USC 668-668d, et seq.
Bare, W.C. and L.D. Torgerson.  2001.  Dry Cask Storage Characterization Project-Phase 1: CASTOR V/21 Cask Opening and Examination.  NUREG/CR-6745. Idaho National Engineering and Environmental Laboratory, Idaho Falls, Idaho.
Beeton, A.M.  2002.  "Large Freshwater Lakes:  Present State, Trends, and Future."  Environmental Conservation 29(1):21–38, New York, New York.
Beitinger, T.L., W.A. Bennett, and R.W. McCauley.  2000.  "Temperature Tolerances of North American Freshwater Fishes Exposed to Dynamic Changes in Temperature."  Environmental Biology of Fishes, 58:237–275.  New York, New York.
Bender, M.A., T. R. Knutson, R. E. Tuleya, J.J. Sirutis, G. A. Vecchi, S. T. Garner, and I. M. Held.  2010.  "Modeled Impact of Anthropogenic Warming on the Frequency of Intense Atlantic Hurricanes," Science, 327 (5964): 454-458, Washington, D.C.
Billone, M.C., T.A. Burtseva, and R.E. Einziger.  2013.  "Ductile-to-Brittle Transition Temperature for High-Burnup Cladding Alloys Exposed to Simulated Drying-Storage Conditions."  Journal of Nuclear Materials 433(1–3):431–448.  Washington, D.C.
Blue Ribbon (Blue Ribbon Commission on America's Energy Future).  2012.  "Report to the Secretary of Energy."  U.S. Department of Energy, Washington, D.C.
Blue Ribbon Commission.  2012.  Transportation and Storage Subcommittee Report to the Full Commission: Updated Report.  Washington, D.C.

Page Last Reviewed/Updated Friday, November 08, 2013