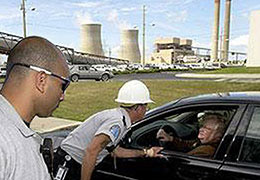 Security-Related Rulemaking to Update 10 CFR Parts 73 and 26
Among its regulatory initiatives related to Domestic Safeguards, the U.S. Nuclear Regulatory Commission (NRC) is pursuing a rulemaking to update portions of Title 10, Part 73, of the Code of Federal Regulations (10 CFR Part 73), "Physical Protection of Plants and Materials," in response to a Staff Requirements Memorandum (SRM-SECY-09-0123), dated July 8, 2010. Specifically, the portions affected by this rulemaking include security-related regulations for special nuclear material (SNM) and fuel cycle facilities (FCFs). For more information, please see the following topics on this page:
Background
In the current regulatory framework, the required level of physical protection relies on the traditional three factor approach, which includes element, quantity and isotopic composition to categorize SNM for purposes of determining the appropriate security requirements applicable to the specific category of material. This framework is based on a material categorization scheme, which places uranium and plutonium into one of three risk categories (Category I, II, or III), depending on the quantity and specific composition of isotopes. This traditional approach relies on a prescriptive categorization scheme to assure adequate protection against theft or diversion of SNM. This scheme does not lend itself to tailoring security requirements based on risk-informed insights. While this traditional approach is simple to implement and assures adequate protection, there have been several instances where it has been shown to be overly conservative for the material being protected. The current regulations do not consider the form or concentration of the material in evaluating the potential risk posed by the material (i.e., the attractiveness of the material to an adversary for use in malicious purposes) nor when assigning security measures. Some material forms represent less risk than others, even though the quantity or type of these materials may fall into the same category. Generally, the lower the concentration of the target material, the less attractive the material is to an adversary. For example, 5 kilograms or more of high-enriched uranium in metal form presents a greater risk than a gondola rail car containing 5 kilograms or more of high-enriched uranium dispersed within contaminated soil.
Applying a graded approach to security requirements by considering the 'attractiveness' of SNM (i.e. composition, dilution, or chemical form), in addition to the traditional categorization scheme, allows the development of a consistent and transparent regulatory structure that can accommodate risk-informed insights. Therefore, under this rulemaking, in turn, linking material with physical protection objectives may lead to the development of more appropriate physical protection requirements for SNM, based on how attractive the material might be for malevolent uses. In addition, consideration of material attractiveness will enable the "right-sizing" of security regulations that are specific to quantities of various forms of SNM, and would ensure greater regulatory predictability and clarity.
In addition, under this rulemaking effort for 10 CFR Part 73, the NRC will ensure that the security measures put in place by NRC Security Orders for FCFs are incorporated directly into the CFR (where appropriate), and that the Security Orders are rescinded (where appropriate).
Additionally, in parallel with the 10 CFR Part 73 rulemaking, the staff is pursuing a rulemaking to have certain nuclear licensees fall under the fatigue requirements that are part of the fitness-for-duty (FFD) requirements within 10 CFR Part 26. Specifically, in this 10 CFR Part 26 rulemaking effort, the staff is moving forward with applying fatigue requirements to security officers at certain FCFs based upon the direction provided in SRM-COMSECY-04-0037, as well as following the staff's next steps outlined in its progress report provided to the Commission on April 29, 2005. To support moving forward with this effort, the NRC asked seven FCFs to provide documentation of actual hours worked for a nominal 2-month period for individuals who fill a non-administrative security position. The staff reviewed the work hours at the group and individual level. The FCF data was compared to current work hour requirement in 10 CFR 26.205d (54 hr rolling average and individual work hour limits). The staff also reviewed fatigue studies, practices throughout other industries to combat fatigue and reviewed potential consequence from officers not being fit to carry out their duties at FCF. The staff determined that there is enough concern to move forward to develop a regulatory basis (i.e., to support rulemaking), in parallel with developing the Part 73 regulatory basis, for having officers at appropriate FCF fall under the fatigue/work hour requirements within 10 CFR Part 26 as directed by SRM-COMSECY-04-0037.
Finally, during development of the regulatory basis document and the proposed and final rules, the staff will take into account the guidance in Revision 5 of the "Nuclear Security Recommendations on Physical Protection of Nuclear Material and Nuclear Facilities" (INFCIRC/225/Rev5), published by the International Atomic Energy Agency (IAEA). This document, most recently revised in February 2011, contains the internationally accepted best practices regarding physical protection of nuclear material and nuclear facilities.
Currently, the staff is developing the regulatory basis for both the 10 CFR Parts 26 and 73 rulemaking efforts. This regulatory basis will provide the scope and technical justification for changes to existing regulations, with a primary focus on 10 CFR Parts 26 and 73. The NRC plans to hold a series of workshops on different aspects of the regulatory basis to obtains stakeholder feedback. The staff is planning to commence the workshops after January 2013. Furthermore, the staff is planning on having a public meeting on the draft regulatory basis for the 10 CFR Parts 26 and 73 rulemaking efforts during the June 2013, timeframe. The staff intends to issue a Federal Register Notice to allow interested stakeholders to comment on the draft regulatory basis for 10 CFR Parts 26 and 73. Subsequently, after review any stakeholder/public comments, the Office of Nuclear Security and Incident Response (NSIR) will forward the final regulatory basis to the Office of Federal and State Materials and Environmental (FSME) Management Programs for review by October 1, 2014. FSME has approximately thirty days to review the regulatory basis from NSIR, and if accepted by FSME, the staff will move forward and pursue rulemaking to update 10 CFR Parts 26 and 73.

Public Involvement
The NRC has a long-standing practice of conducting its regulatory responsibilities in an open manner. For that reason, the NRC is committed to informing the public about its regulatory, licensing, and oversight activities, and providing opportunities for the public to participate in the agency's decision-making process.
For general information about the available opportunities for public involvement in NRC activities, see Public Meetings and Involvement, Hearing Opportunities and License Applications, and NUREG/BR-0215, "Public Involvement in the Regulatory Process." For more specific information about public meetings that the NRC staff has conducted in connection with the update of 10 CFR Part 73, please see Public Meetings and Materials, below. For other security-related meetings, please see Public Meetings on Nuclear Security and Safeguards.
Also, since the issuance of SRM-SECY-09-0123, the NRC staff has been involved in extensive domestic/international outreach efforts to build a consensus that the approach it is taking to categorize material based on attractiveness meets the intent of international commitments and INFCIRC/225/Rev5.
In addition, we invite you to Contact Us if you have comments or questions regarding this regulatory initiative.

Meetings and Materials
The NRC holds public meetings to discuss agency activities related to the security rulemaking to update 10 CFR Part 73. Materials associated with these meetings are available below. If you have any questions about our public meetings and materials, please Contact Us.
| Date | Description |
| --- | --- |
| June 11–12, 2013 | 8th Annual Fuel Cycle Information Exchange (FCIX) Public Meeting (Rockville, MD) |
| June 12–13, 2012 | 7th Annual Fuel Cycle Information Exchange (FCIX) Public Meeting (Rockville, MD) |
| June 7–8, 2011 | 6th Annual Fuel Cycle Information Exchange (FCIX) Public Meeting (Rockville, MD) |

Page Last Reviewed/Updated Wednesday, November 06, 2013