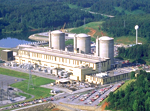 Generic Communications Regarding Radiation Protection for New Reactors
The U.S. Nuclear Regulatory Commission (NRC) issues generic communications when issues arise that are safety-significant, require technical resolution, and might suggest safety concerns for multiple licensees, manufacturers, suppliers, service groups, or regulatory organizations. For generic communications regarding radiation protection for new reactors, see the following categories on this page:
IE Bulletins
Bulletins inform addressees of recently identified "urgent" safety issues, may request information and/or action, and require written responses under oath or affirmation.
| Document Number | Description |
| --- | --- |
| 80-10 | Contamination of Nonradioactive System and Resulting Potential for Unmonitored, Uncontrolled Release of Radioactivity to Environment |
| 79-09 | Spill of Radioactively Contaminated Resin |
| 79-07 | Rupture of Radwaste Tanks |

Circulars
Circulars transmit information to licensees or permit holders when (1) the information is of safety, safeguards, or environmental interest; (2) the NRC wishes to disseminate the information within 30 days; and (3) no reply is necessary in order for the NRC to assess the significance of the matter.
| Document Number | Description |
| --- | --- |
| 81-09 | Containment Effluent Water that Bypasses Radioactivity Monitor |
| 79-21 | Prevention of Unplanned Releases of Radioactivity |
| 77-14 | Separation of Contaminated Water Systems from Noncontaminated Plant Systems |
| 77-10 | Vacuum Conditions Resulting in Damage to Liquid Process Tanks |

Generic Letters
Generic letters address generic safety, safeguards, or the environmental issues by requesting that addressees perform analyses, propose corrective actions, submit technical information that the NRC needs to perform its mission, or submit proposed changes to technical specifications or license commitments. Generic letters may also state new staff technical or policy positions or solicit voluntary participation in technical pilot programs.
| Document Number | Description |
| --- | --- |
| 81-039 | NRC Volume Reduction Policy |
| 81-038 | Storage of Low-Level Radioactive Wastes at Power Reactor Sites |
| 80-009 | Low-Level Radioactive Waste Disposal |

Information Notices
Information notices inform addressees of significant, recently identified operating experience that involves safety, safeguards, or environmental issues. Addressees are expected to review the information for applicability to their operations, and consider appropriate actions to avoid similar problems. However, information notices do not impose or imply new requirements, do not interpret regulations, and do not require specific actions.
| Document Number | Description |
| --- | --- |
| 91-40 | Contamination of Nonradioactive System and Resulting Possibility for Unmonitored, Uncontrolled Release to the Environment |
| 90-31 | Update on Waste Form and High Integrity Container Topical Report Review Status, Identification of Problems with Cement Solidification and Reporting of Waste Mishaps |
| 87-07 | Quality Control of Onsite Dewatering/Solidification Operations by Outside Contractors |
| 86-43 | Problems with Silver Zeolite Sampling of Airborne Radioiodine |
| 86-20 | Low-Level Radioactive Waste Scaling Factors, 10 CFR Part 61 |
| 85-92 | Surveys of Wastes Before Disposal from Nuclear Reactor Facilities |
| 84-72 | Clarification of Conditions for Waste Shipments Subject to Hydrogen Gas Generation |

Page Last Reviewed/Updated Friday, April 19, 2013