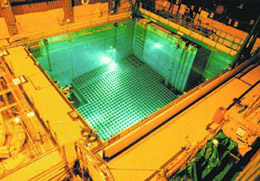 subscribe to page updates
Waste Confidence
The Waste Confidence Decision and Rule represent the generic determination by the U.S. Nuclear Regulatory Commission (NRC) that spent nuclear fuel can be stored safely and without significant environmental impacts for a period of time after the end of the licensed life of a nuclear power plant. Historically, this generic analysis has been incorporated into the Commission's NEPA reviews for new reactor licenses, license renewals, and Independent Spent Fuel Storage Installation (ISFSI) licenses through the Waste Confidence Rule. The Waste Confidence Decision and Rule satisfy the NRC's obligations under NEPA, with respect to post-licensed-life storage of spent nuclear fuel.
On June 8, 2012, the U.S. Court of Appeals for the DC Circuit found that some aspects of the 2010 Decision did not satisfy the NRC's NEPA obligations and vacated the Decision and Rule. [New York v. NRC, 681 F.3d 471 (D.C. Cir. 2012)]. The court indicated that in making either a Finding Of No Significant Impact based on an Environmental Assessment or in an Environmental Impact Statement supporting the rulemaking, the Commission needed to add additional discussions concerning the impacts of failing to secure permanent disposal for spent nuclear fuel, and concerning the impacts of certain aspects of potential spent fuel pool leaks and spent fuel pool fires.
In response to the Court's decision, the Commission decided to stop all licensing activities that rely on the Waste Confidence Decision and Rule (see CLI-12-016). The NRC created a Waste Confidence Directorate within the Office of Nuclear Material Safety and Safeguards to oversee the drafting of a new Waste Confidence Environmental Impact Statement and Rule. The Commission has instructed the Directorate to issue the final Environmental Impact Statement and Rule by no later than September 2014.
For additional information, please see the following pages:
Page Last Reviewed/Updated Wednesday, May 15, 2013