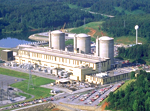 Radioactive Effluent and Environmental Reports
Each commercial nuclear power plant is required to submit two annual reports, which detail (1) the radioactive effluents discharged from the site, and (2) the effects (if any) on the environment. In addition to these two annual reports, in 2007 each power plant voluntarily submitted answers to a questionnaire related to the voluntary initiative on groundwater protection, initiated by the commercial nuclear power industry.
To see these reports and questionnaires for a particular nuclear power plant, select the plant name from the following table.
To allow easier comparison of the radioactive effluent information from all power reactors in the United States, the Nuclear Regulatory Commission (NRC) recently began summarizing the radioactive effluent data from all reactor sites on an annual basis using graphs and tables. This is a new effort initiated by the NRC, and it is intended to make the radioactive effluent data more understandable, usable, and transparent. The following NRC radioactive effluent summary reports for calendar years shown below are now available below:
Radioactive Effluent Summary Report by Calendar Year: 2008 | 2007 |
The NRC Summary Report for 2009 is currently scheduled to be posted before the end of June 2013.

Page Last Reviewed/Updated Friday, May 10, 2013