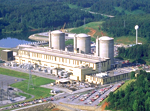 NRC Orders Enhance Post-Fukushima Safety
The NRC issued three Orders in March 2012 to implement important lessons learned from Fukushima. Two Orders apply to every U.S. commercial reactor, including those under construction in Tennessee, South Carolina and Georgia.
MITIGATION STRATEGIES
The first Order requires plants to obtain and protect additional post- 9/11 equipment, such as pumps and generators, to support all reactors at a given site simultaneously.
SPENT FUEL POOL
The second Order requires plants to install enhanced equipment for monitoring water levels in each plant's spent fuel pool.
HARDENED CONTAINMENT VENTS
The third Order applies only to reactors with designs similar to the Fukushima plant. These reactors must improve/install emergency venting systems that can relieve pressure in the event of a serious accident.
Every U.S. plant must comply with the relevant Orders by Dec. 31, 2016.
Page Last Reviewed/Updated Monday, March 25, 2013