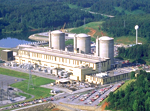 NRC Prioritizes Post-Fukushima Recommendations
| | |
| --- | --- |
| | After the Fukushima accident, a task force of senior NRC staff provided several dozen recommendations to enhance U.S. reactor safety. The Commission directed the staff to work on the first recommendation, which proposes revising the NRC's regulatory approach to better account for extreme events, and approved the staff's prioritization of the remaining recommendations into three tiers: |
Tier
1
Recommendations that should be started without unnecessary delay and for which the agency already has enough resources (such as staff with proper skills).
Tier
2
Recommendations that had to wait for factors such as further technical assessment, resolution of Tier 1 issues, or availability of critical staff skills.
Tier
3
Recommendations that require further staff study to support a regulatory action, rely on resolution of a higher-tier action, are dependent on critical skill sets, or depend on the NRC's actions on the first recommendation.
Page Last Reviewed/Updated Friday, March 22, 2013