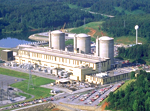 Fermi, Unit 2 – License Renewal Application
On this page:
Application Information:
Fermi 2 License Renewal Application

License Renewal Review Schedule*:
*These schedules reflect work plans that are subject to change. Early completion of a milestone may affect the target date of future milestones. Subsequent meetings and comment periods may change based on the revised schedule. This work plan will be updated on a periodic basis. Please see the NRC Public Meetings Page or contact the below listed PM for the latest information on meetings and status.

| Milestones | Schedule Date | Actual Date |
| --- | --- | --- |
| Receive license renewal application (LRA) | 04/30/14 | 04/30/14 |
| Publish Federal Register Notice (FRN) – LRA availability | 05/2014 | 05/12/14 |
| Publish FRN – acceptance/rejection and opportunity for hearing | 06/2014 | 06/18/14 |
| Publish FRN – environmental scoping meeting | 06/2014 | 06/30/14 |
| Public Meeting – License Renewal Overview and Environmental Scoping meeting | 07/24/14 | 07/24/14 |
| Audit – Scoping & Screening Methodology | 08/04/14 | 08/04/14 |
| Deadline for filing hearing requests and petitions for intervention | 08/18/14 | 08/18/14 |
| Environmental scoping period ends | 08/2014 | 08/29/14 |
| Audit – Environmental | 09/08/14 | 09/08/14 |
| Audit – Aging Management Programs (Week 1) | 09/15/14 | 09/15/14 |
| Audit – Aging Management Programs (Week 2) | 09/29/14 | 09/29/14 |
| Regional Inspection – IP 71002, "License Renewal Procedure" | 03/2015 | |
| Issue draft supplemental environmental impact statement (SEIS) | 06/2015 | |
| U.S. Environmental Protection Agency FRN Published – draft SEIS available for comments | 06/2015 | |
| Public Meeting – draft SEIS meeting | 07/2015 | |
| End of draft SEIS comment period | 08/2015 | |
| Issue safety evaluation report (SER) with open items | 09/2015 | |
| Advisory Committee on Reactor Safeguards (ACRS) Subcommittee meeting | 11/2015 | |
| Issue final SEIS | 02/2016 | |
| U.S. Environmental Protection Agency FRN Published – final SEIS available | 02/2016 | |
| Issue final SER | 02/2016 | |
| ACRS Full Committee meeting | 04/2016 | |
| Decision – Director, NRR | 05/2016 | |
| Commission decision, if hearing granted | TBD | |
Note: The Fermi, Unit 2, review schedule was established based on the letter below:

Project Managers for Fermi, Unit 2
Fermi, Unit 2 PMs
License Renewal (Safety)
Daneira Meléndez-Colón
License Renewal (Environmental)
Michael Wentzel
Lead Power Plant
Jennivine Rankin

Page Last Reviewed/Updated Friday, October 31, 2014