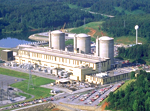 Vendor Quality Assurance (QA) Inspection Reports for New Reactors
The purpose of inspection reports is to document the inspection scope, observation, and findings of inspections conducted by the NRC. The NRC performs inspections to oversee the commercial nuclear industry to determine whether its requirements are being met by licensees and their contractors. The NRC performs inspections to verify the quality and suitability of vendor products, licensee-vendor interface, and review of equipment problems found during operation and their corrective action.
For inspections and related vendor inspections conducted by Region II for the Mixed Oxide Fuel Fabrication Facility, please reference the Meetings About Mixed Oxide Fuel page.
Prior to December 1999, the NRC issued NUREG-0040, "Licensee Contractor and Vendor Inspection Status Report," (The White Book) to document the results of inspections performed by the NRC's Quality Assurance, Vendor Inspection, Maintenance and Allegations Branch that were distributed to the inspected organizations. As of November 1999, these inspection reports are available electronically in the NRC's record retrieval system, ADAMS. The following inspections have been conducted since May 2005:
THESE INSPECTIONS WERE LIMITED IN SCOPE AND DO NOT CONSTITUTE NRC ENDORSEMENT OF A VENDOR'S OVERALL QA PROGRAM:
2000s: 2013 | 2012 | 2011 | 2010 | 2009 | 2008 | 2007 | 2006 | 2005
If you recently received a vendor inspection report, please fill out the Vendor Inspection Report Feedback Form to help the NRC assess whether the reports are relevant, useful, and written in a clear and understandable manner.
Page Last Reviewed/Updated Friday, April 19, 2013