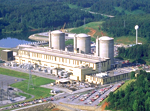 Quality Assurance (QA) Inspections for New Reactor Licensing
The U.S. Nuclear Regulatory Commission (NRC) regulates the construction and operation of new commercial nuclear power facilities. In doing so, the NRC performs inspections to determine whether licensees and their contractors are meeting the agency's requirements. In particular, the NRC reviews the quality assurance (QA) programs for commercial nuclear power plants, as well as any changes that reduce previous commitments to the plant's QA program. For more detail, see the following topics on this page:
This page includes links to files in non-HTML format. See Plugins, Viewers, and Other Tools for more information.
QA Inspection Procedures
The NRC performs QA inspections to ensure that licensees and their contractors meet the following criteria:
QA plans, instructions, and procedures for specific safety-related activities have been implemented as outlined in the QA program description.


QA plans, instructions, and procedures conform to the QA program.
Toward that end, the NRC has established the following QA inspection procedures for design certifications, early site permits, and combined licenses:
| IP# | Issue Date | Title |
| --- | --- | --- |
| IP 35005 | 10/03/07 | Pre-Application Quality Assurance Program Audit |
| IP 35017 | 07/29/08 | Quality Assurance Implementation Inspection |
| IP 35034 | 01/27/10 | Design Certification Testing Inspection |
| IP 36100 | 02/13/12 | Inspection of 10 CFR Part 21 Programs for Reporting Defects and Nonconformance |
| Manual Chapter 0617 | 10/29/09 | Vendor and Quality Assurance Implementation Inpsection Reports |

QA Inspection and Audit Reports
Inspection and audit reports document the scope, observations, and findings of inspections and audits conducted by the NRC. The NRC performs inspections and audits to oversee the commercial nuclear industry to determine whether licensees and applicants (and their contractors) are meeting the agency's requirements. Toward that end, the NRC has conducted the following inspections for early site permit and combined license applications, and audits for pre-design certification and pre-combined license reviews.
2000s: 2013 | 2012 | 2011 | 2010 | 2009 | 2008 | 2007 | 2006 | 2005 | 2004
If you recently received a vendor inspection report, please fill out the Vendor Inspection Report Feedback Form to help the NRC assess whether the reports are relevant, useful, and written in a clear and understandable manner.

Page Last Reviewed/Updated Tuesday, April 30, 2013