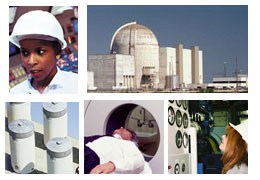 Low-Level Waste and Decommissioning Sub-Arena
Low-level waste and decommissioning comprise one of three sub-arenas that the staff of the U.S. Nuclear Regulatory Commission (NRC) identified in considering which areas of the waste management arena to target for greater use of risk information. This page summarizes the following aspects of this sub-arena:
Objective
Facilitate the application of risk-informed and performance-based approaches in implementing the NRC's rulemaking, licensing, and oversight functions for low-level waste, including waste incidental to reprocessing, and decommissioning on a case-by-case basis.

Basis
The NRC staff engages with the agency's licensees and stakeholders (including the public) in making significant decommissioning decisions and implementing significant actions focusing on risk-significance and potential environmental impacts. The NRC's Office of Federal and State Materials and Environmental Management Programs (FSME), in coordination with the Office of Nuclear Regulatory Research (RES) and the Center for Nuclear Waste Regulatory Analysis (CNWRA), is continuing development, maintenance, and evaluation of probabilistic environmental models and codes for risk/dose analysis. Use of probabilistic distributions as inputs to uncertain physical and behavior parameters is common in independent staff reviews in determining risk-significance and request for additional information development. The NRC also uses probabilistic tools with uncertainty analysis to review and assess dose impacts to demonstrate compliance with the dose criteria set forth in Subpart E of 10 CFR Part 20.
In review of waste determinations to be made by the U.S. Department of Energy that waste is incidental to reprocessing, the staff utilizes risk-informed performance-based approaches including uncertainty/sensitivity analyses and alternate conceptual models. The risk insights gained during the review are utilized to establish the monitoring areas for a site.

Goals
The staff has established the following goals for risk-informed and performance-based activities in this subarena:
Continue to evaluate current dose modeling approaches for low-level waste and decommissioning, and provide recommendations for a path-forward to enhance the use of risk-informed and performance-based approaches in licensing reviews and regulatory implementation.
Continue making incremental improvement (as practicable) in rulemaking and guidance development, licensing, and oversight, to enhance the use of risk-informed and performance-based approaches.
Encourage the industry and NRC licensees to use a risk-informed and performance-based approach in demonstrating compliance with the NRC's risk/dose criteria.
Risk-Informed and Performance-Based Activities
The following table specifies the ongoing licensing initiatives, projects, and activities that the staff of the U.S. Nuclear Regulatory Commission (NRC) has targeted for greater use of risk information in the Low-Level Waste and Decommissioning Sub-Arena within the Waste Management Arena.
This page includes links to files in non-HTML format. See Plugins, Viewers, and Other Tools for more information.
Initiative, Program or Project
Project Description and Major Activities
Status
Oct 2012
Part 61 Revisions: Require Site-Specific Analysis for disposal of Unique Waste Streams
Conduct Rulemaking to require Site-specific Analysis for licensed low-level waste disposal facilities. The Commission was provided a draft rulemaking and guidance document in July 2013. If the Commission approves, it will be issued for comment in FY 2014, with a final rule to the Commission early FY 2015.
Risk Basis: This rule improves on the risk-informed, performance-based framework already present in Part 61 to ensure that the safety analyses performed to evaluate long-term isolation are comprehensive and consistent.
More Information from Topic Web Site
Part 61 Implementation: Update Branch Technical Position (BTP) on Concentration Averaging and Encapsulation
Risk-inform, performance-base positions in this BTP. It was published draft for comment in 2012. The final version will be issued in late 2013.
Risk Basis: The revised guidance provides additional means for licensed facilities to include defense in depth measures against inadvertent intrusion as well as new risk-informed averaging limitations.
More Information from Topic Web Site
To request additional information, Contact Us About Risk-Informed, Performance-Based Regulation.

Page Last Reviewed/Updated Wednesday, November 06, 2013