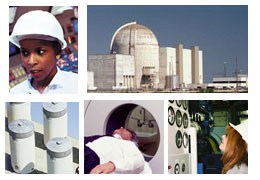 How to Apply
The US Nuclear Regulatory Commission (NRC) has integrated NRCareers, our online job application system, with the Office of Personnel Management (OPM) USAJOBS system making it easier and more efficient for you to manage your online job seeking process. To apply for NRC job vacancies you will need a USAJOBS account. Please follow the instructions below to create your USAJOBS account and apply for NRC job opportunities.
On this page:

Step 1 - Create a USAJOBS Account
To apply for NRC job vacancies you will need a USAJOBS account. Create your account now to complete your profile and build your resume. You may create and store up to five resumes in USAJOBS.
If you already have an account with USAJOBS, we suggest you review its accuracy prior to applying for job vacancies.

Step 2 - Search for Job Opportunities
After you have completed the registration process and posted your resume(s) with USAJOBS, you will be ready to apply for NRC job opportunities. You can view a list of current NRC vacancies at USAJOBS or search for NRC vacancies by using Search Jobs.
Once you have searched for and found a job opportunity of interest to you, please be sure to read the vacancy announcement carefully. If you feel you meet the eligibility requirements, just select the "Apply Online" button and follow the online instructions. You will then be transferred to NRCareers and your USAJOBS registration information, including your resume, will flow from USAJOBS to NRCareers.

Step 3 - NRCareers Additional Information
Once you have been transferred to NRCareers, follow the online prompts to complete the application process. Be certain to read the on-screen instructions thoroughly before continuing. First, you will be asked to complete or update your information on file.
If you have previously applied for a position with the NRC, since our integration with USAJOBS, you will have the option to update your information on file each time you apply for a job. By selecting this option you will be able to verify that your data on file is accurate.
After completing or updating your information, you will be informed of the announcement types you are eligible to apply to. Follow the prompts to continue.

Step 4 - Vacancy-Specific Questions
In addition to the personal information, demographic information and resume that you have already provided, you will need to respond to questions specific to the vacancy announcement. You must respond to all questions in order to successfully complete the application process. Once you have answered all vacancy questions select the "Finished" button and follow the on-screen prompts.
After successfully completing the application process you will be re-directed back to USAJOBS where you can view your application status, continue to search for job opportunities or apply for additional vacancies. You may return at any time until 11:59 p.m. Eastern Time on the closing date of the vacancy announcement to update or make changes to your application package. To do so, just follow the instructions above.
If you have any questions or need additional information about a specific vacancy announcement, please contact the Human Resources Specialist listed on that particular announcement.

The Federal Government Is an Equal Opportunity Employer.
We welcome your feedback on NRCareers. To contact us, please see Contact Us About Employment and select NRCareers from the dropdown list.
Page Last Reviewed/Updated Wednesday, June 12, 2013