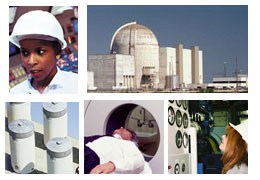 Regulations, Guidance, and Generic Communications
To prepare for a radiological emergency, NRC developed regulations, guidance, and communications related to emergency preparedness for nuclear power plants.
On this page:
This page includes links to files in non-HTML format. See Plugins, Viewers, and Other Tools for more information.
Regulations
NRC's regulations are found in Chapter I, "Nuclear Regulatory Commission," of Title 10, "Energy," of the Code of Federal Regulations (CFR). Chapter I is divided into Parts 1 through 199. The following are the principal parts governing emergency preparedness for nuclear power plants:
See also Rulemaking Activities for Emergency Preparedness and Response.

Guidance
NRC provides guidance to nuclear power plant operators on acceptable methods for implementing emergency preparedness regulations in NRC-generated documents and endorses additional implementation methods in the non-NRC-generated documents listed below:
NRC-Generated Guidance Documents
NRC-Endorsed Guidance Documents

Generic Communications
The NRC uses various methods to conduct open and effective communications with nuclear power plant operators. The type of written generic communication used is based on the message's urgency, objective, and safety or environmental significance.
For more detailed information, see Generic Communications for Emergency Preparedness and Response.

Page Last Reviewed/Updated Tuesday, August 06, 2013