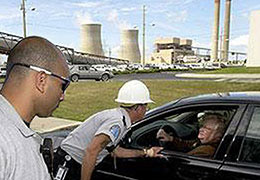 The NRC Source Data Team and U.S. Customs
On this page
Team Mission
The NRC established the Source Data Team (SDT) to assist U.S. Customs and Border Protection (CBP) in verifying the legitimacy of shipments of radioactive material passing through the U.S. border.
The NRC can access information regarding certain specific licensing information such as possession limits, approved places of use, and other data specific to a given NRC materials licensee. The NRC also has established a good working relationship and communication channels with the Agreement States, who have the authority to regulate and license material use. The NRC has means of contacting and consulting with Agreement State radiation control representatives when needed.
By using the information, tools, expertise, and communication framework that the NRC has at its disposal, the SDT can gather and assess certain licensing information regarding a radioactive shipment to help determine its validity if questioned by CBP. In this way, the NRC helps maintain the Nation's public health and safety, and common defense and security.
Related Letters
Page Last Reviewed/Updated Wednesday, April 29, 2015