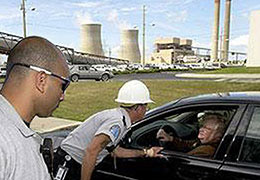 Security Enhancement Activities
The NRC has taken a leadership role in establishing an enhanced security framework for risk-significant radioactive sources in both the U.S. and the international community. The NRC chairs the Radiation Source Protection and Security Task Force, which was formed to evaluate and provide recommendations relating to the security of radiation sources in the U.S.
The NRC's Efforts to Secure Byproduct Material
The efforts of the NRC have included
working with the Deparments of Energy and State to influence the International Atomic Energy Agency (IAEA) Code of Conduct on the Safety and Security of Radioactive Sources (completed September 2003);
using the Code of Conduct as the organizing principle for the security enhancements for licensees possessing risk-significant sources;
making the U.S. the first nation to implement the export/import controls for high-risk sources recommended by the Code;
partnering with U.S. Customs and Border Protection to validate the authenticity of radioactive material shipments;
assisting the Department of Homeland Security's (DHS's) Domestic Nuclear Detection Office in their effort to develop a national nuclear detection infrastructure;
partnering with other Federal and State agencies to develop, maintain, and implement methods to enhance the security of radioactive materials;
working with Agreement States to

issue legally binding requirements for the increased security of Category 1 and 2 quantities of byproduct material to nearly 3,000 licensees; and
inspect the licenses to verify compliance with the requirements; and

participating in a variety of interagency working groups and other activities to promote security awareness and effective practices among materials licensees throughout the Nation.

Page Last Reviewed/Updated Friday, August 11, 2017
Home
About Us
Popular Documents