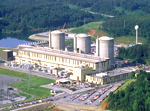 Plant Summaries

Every reactor monitored by NRC's Reactor Oversight Process has its own individual assessment.  The quarterly performance summaries below provide a summary of inputs to the Action Matrix process broken down by cornerstone and color coded according to significance.  These include:
Performance Indicators voluntarily reported quarterly by licensees.
Inspection Findings are documented in inspection reports.
The summaries also contain links to the NRC assessment letters and data on baseline inspection completion.

Page Last Reviewed/Updated Friday, November 22, 2019
Home
About Us
Popular Documents
Stay Connected