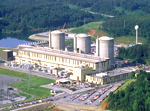 Public Meetings for 2009
This page list, in reverse chronological order, the notices, slides and summaries documenting the public meetings held, with the Pressurized Water Reactor Owner's Group (PWROG) concerning the pressurized-water reactors (PWRs) sump performance issue (GSI-191). To learn about future meetings, see our public meeting schedule page.
For plant specific information, see our Correspondence Related to Generic Letter 2004-02 page.
This page includes links to files in non-HTML format. See Plugins, Viewers, and Other Tools for more information.
| Date | Description |
| --- | --- |
| 12/17/09 | Public Meeting with the PWROG in Regard to PWROG's Approach to Resolve NRC Staff Questions on Topical Report WCAP-16793, "Evaluation of Long Term Core-Cooling Considering Particulate and Chemical Debris in the Recirculating Fluid" |
| 12/16/09 | Public Meeting (With Portions Closed) Between U.S. Nuclear Regulatory Commission & Pressurized Water Reactor Owners Group Regarding Reduced Zone-of-Influence Testing of Insulation Materials For Resolution of GSI-191 |
| 06/23/09 | Public Meeting with the Pressurized Reactor Owners Group, Licensees and Nuclear Energy Institute to Discuss the Resolution of Generic Safety Issue (GSI-191) |
| 02/20/09 | Summary of January 15, 2009, Public Meeting with the Owner's Group, Licensees, and the Nuclear Energy Institute to Discuss the Resolution of GSI -191 |
| 01/15/09 | Telecom on December 16, 2008, between the Nuclear Regulatory Commission, Westinghouse and the Nuclear Energy Institute on Licensees Crediting Reduced Zones of Influence Based on Westinghouse Test Reports |
| 01/15/09 | Public Meeting with the Pressurized Water Reactor Owners Group (PWROG), Licensees, and the Nuclear Energy Institute (NEI) to Discuss the Resolution of Generic Safety Issue (GSI)-191 |
| 01/13/09 | Closed Meeting with Westinghouse to Discuss Crediting Reduced Zones of Influence (ZOIs) Based on Westinghouse Test Reports. |
| 01/13/09 | Closed Meeting with Westinghouse to Discuss Crediting Reduced Zones of Influence (ZOIs) Based on Westinghouse Test Reports. |

Page Last Reviewed/Updated Wednesday, May 24, 2017
Home
About Us
Popular Documents