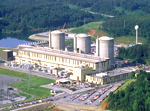 Public Meetings for 2008
This page lists, in reverse chronological order, the notices, slides and summaries documenting the public meetings held concerning the pressurized-water reactors (PWRs) sump performance issue (GSI-191). To learn about future meetings, see our public meeting schedule page.
This page includes links to files in non-HTML format. See Plugins, Viewers, and Other Tools for more information.
| Date | Description |
| --- | --- |
| 11/24/08 | Notice of Meeting with Duke Energy Carolinas, LLC, (Duke), Catawba, Units 1 and 2, and McGuire, Units 1 and 2. |
| 11/06/08 | Public Meeting with Operators of Vogtle Units 1 & 2, San Onofre Units 2 & 3, St. Lucie Unit 1, Turkey Point Unit 3, Indian Point Units 2 & 3, Nuclear Energy Institute, and Alion Science and Technology. |
| 09/25/08 | Public Meeting with the Nuclear Energy Institute (NEI) and Industry to Discuss Issues Related to the Resolution of Generic Safety Issue (GSI)-191. |
| 09/10/08 | Public Meeting with the Boiling Water Reactor Owner's Group (BWROG) to Discuss the BWROG Program Plan for the Treatment of Emergency Core Cooling System (ECCS) Suction Strainer Technical Issues. |
| 06/05/08 | Meeting with Boiling Water Reactor Owner's Group (BWROG) to Discuss the Treatment of Generic Safety Issue (GSI) 191 Technical Issues as Applied to BWR |
| 02/28/08 | Public Meeting with Entergy on the Response to Generic Letter 2004-02 for Indian Point Nuclear Generating Unit Nos. 2 and 3 |

Page Last Reviewed/Updated Wednesday, May 24, 2017
Home
About Us
Popular Documents